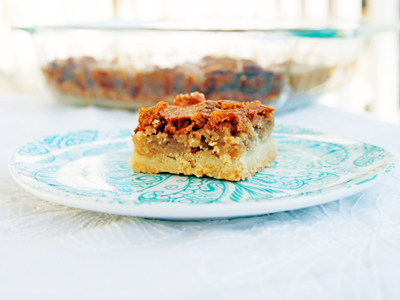 The place you come from can be a special thing. For some, it's that one house in that one town where you lived everyday until you moved away for college. For others, it's that area that you called home during the most loved moments of your childhood. For me, home is New York where I grew up and went to college. No matter how long I live elsewhere, my heart belongs to New York.
But if I am going to be honest with myself, I am a New Englander too. I've now lived in Connecticut for a little more than a decade and I also spent summers here as a child. It might not have my heart, but New England is home.
What I am not is a Southern girl, which is a whole other breed of woman. Honestly, I am a little jealous of the Southern pride that's led to the proliferation of Southern cooking shows, books and magazines. The Southern cuisine is so different than what I grew up with, and is pretty special.
But so is the cuisine of New England. You don't hear about it much, but New England has a delicious and distinctive way of cooking that's pure comfort to a Northern girl like me. That's why I'm going to be writing more about the food of New England in the new year. Between vintage cookbooks and my family's own private recipes, I have a lot to share and can't wait to turn you onto New England's cuisine — if you aren't already into it. Don't worry — it won't be every day. Just bits of New England food here and there.
But for now, I have a vintage Southern recipe to share. Hey, Southern cooking is rather good too.
A few weeks back, I bookmarked (like literal, physical bookmark) a recipe in a vintage cooking pamphlet for something called Chess Bars. Honestly, I've never had a Chess Bar before — and if not for being asked if I could make a Chess Pie last year (I had to decline, since I had no idea what that was), I've never really heard of it before either. But this recipe in the Occident/King Midas 117 Bar Cookie Recipes No. 2 Recipe Book just spoke to me. I had to try it.
These are super easy to make. You start by making an egg-free cookie crust that reminds me of shortbread. I just whipped that together in the food processor.
Then you press it into a pan and bake partially bake it.
Next, you mix together the topping and pour it on. Then you bake it again until it's set. Basically, the topping shouldn't jiggle when you jostle the pan.
Let it cool fully, then cut it into squares and enjoy.
These make a great dessert and are perfect for a last-minute holiday treat since you probably have all the ingredients in the pantry. Enjoy!
Chess Bars
Total Time:
1 hour
10 minutes
Recipe from Occident/King Midas 117 Bar Cookie Recipes No. 2 Recipe Book
Ingredients
Base:
1/2 cup cold unsalted butter, , cut into pieces
1/4 cup granulated sugar
1 1/4 cup all purpose flour
Topping:
1/2 cup softened unsalted butter
2 large eggs
1 cup packed light brown sugar
1/2 cup chopped walnuts
Instructions
Preheat the oven to 350 degrees.
Combine the ingredients for the base in the bowl of a food processor and process together. The mixture should be crumbly. Press into an ungreased 9x9 baking pan. Bake for 20 minutes and then remove from the oven.
Combine the ingredients for the topping in the bowl of a stand mixer and mix on medium until well combined. Pour onto the base. Return to the oven and bake for 30-35 minutes until set. Remove from the oven and let cool completely before cutting into 16 small squares.
Cover and store in an airtight container (such as the pan with a lid) for up to a week.
Sarah Walker Caron is a cookbook author, freelance writer and founder of Sarah's Cucina Bella. She is the author of four cookbooks including The Super Easy 5-Ingredient Cookbook and One-Pot Pasta, both from Rockridge Press. A single mother to a tween and a teen, Sarah loves nightly family dinners, juicy tomatoes plucked fresh from the vine and lazy days on the beach. She also adores reading and traveling.