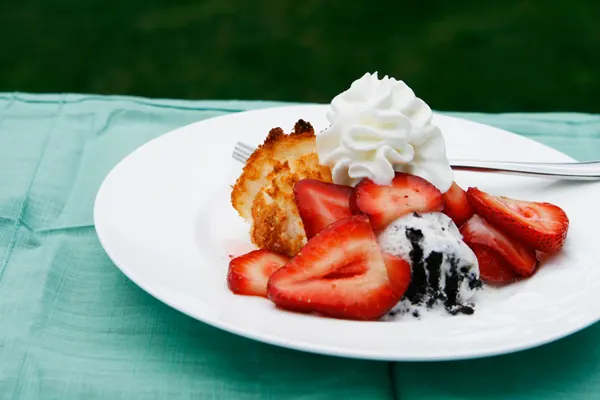 Summertime to me is strawberries — fresh, ripe strawberries that spill their juices when left to tango with sugar for awhile. Summer is simple food, served up fast with little fuss. Summer is time spent outside, enjoying the late evening sunsets, warm air and hum of grasshoppers in the distance. Oh, and most of all, it's the waves lapping at the shore because summer is (to me at least) best spent by the beach.
I'm so glad that summer's here. I feel like we've been waiting forever for this to come. For more than two months, I have been talking about the summer, mentally trying to hold myself off even as I craved the time when we'd leave the school year behind and head to the shore as we do every year. It has finally arrived, and I couldn't be happier.
Summer's arrival is cause for celebration. And what better to celebrate with than a delicious, unexpected dessert like this one? With strawberries, of course!
Kitchen PLAY recently asked me to participate in a Progressive Party sponsored by CUTCO Cutlery, a maker of knives. The party focus? Summertime dining. So I am really excited to share this recipe with you because my favorite dining happens in the summertime. All the fresh veggies and fruit are so fun to work with. I was super psyched to learn that I was given the dessert course for the party. I do love my desserts.
In making this, I used a paring knife from CUTCO and I have to say that I loved it. It glided through the berries effortlessly, making the cutting process an absolute breeze. I' msuper picky about knives, and these — with their comfortable grip and perfectly sharp blade — are a treat to use. Plus, the fact that they come with a Forever Guarantee, which covers free sharpening and repairs forever, is pretty awesome too.
So, what did I create? Cookies and Cream Strawberry Shortcake with Toasted Angel Food Cake. Yes, it's a mouthful but it's a supremely delicious one. And it's a little unexpected too because it's a summery dessert that brings together hot, cold, smooth, creamy and crunchy in one delicious package.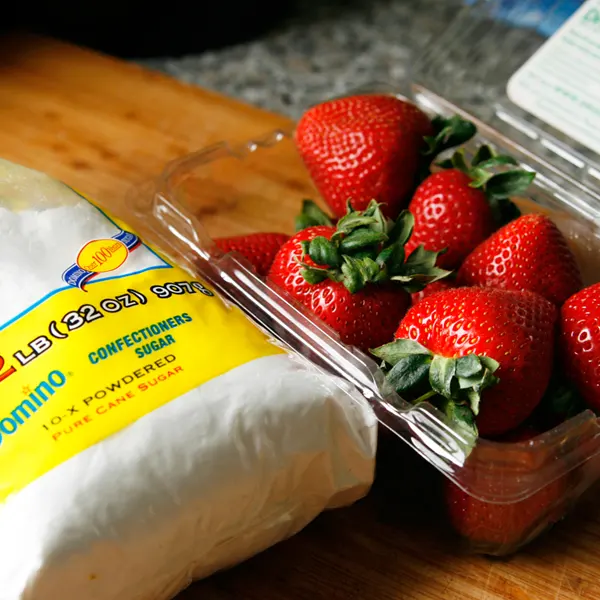 You start by making some easy saucy strawberries using two ingredients: strawberries and powdered sugar.
Slice the strawberries thinly (about 1/4-inch thick should be perfect) and then stir them together with the powdered sugar. Chill them for at least two hours to let them get all saucy. Then stir and use them. The chilling part? Super important, so be sure to leave time for that.
Once that's done, you toast the angel food cake. Have you ever toasted angel food cake? It's the most miraculous thing. The already totally addictive flavor becomes irresistible with caramelized edges and a crusty exterior. It's warm and toasty, which even in the dead heat of summer, is a pleasing contrast to the cool, creamy ice cream and chilled, syrupy berries. You'll find yourself making this again and again. Trust me.
The next and final step is to arrange all the ingredients on a plate. Easy peasy. You'll find yourself making this shortcake again and again. Trust me.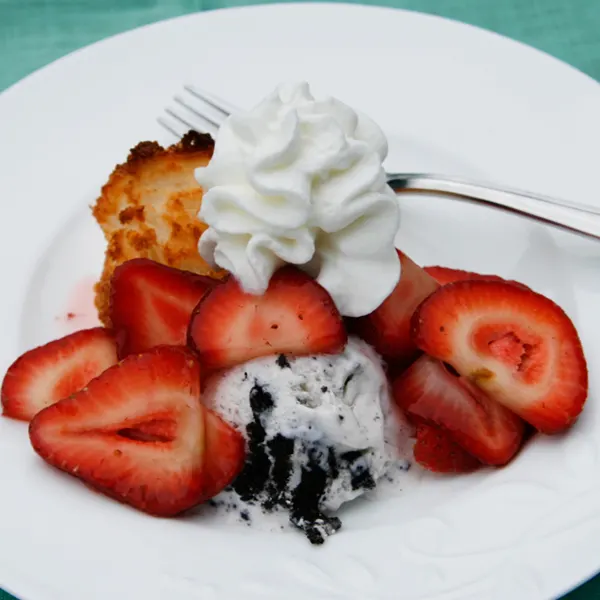 Cookies and Cream Strawberry Shortcake with Toasted Angel Food Cake
Ingredients
1 lb strawberries, hulled and sliced length-wise
2 tbsp powdered sugar
4 slices about 1 1/2 inch thick angel food cake
2 cups cookies and cream ice cream, divided
whipped cream
Instructions
Stir together the strawberries and sugar. Cover and chill for at least two hours. Stir again.
Once the strawberries are ready, preheat the oven to 350 degrees. Place the slices of angel food cake on a baking sheet and bake for 6-8 minutes until golden.
Place a slice of angel food cake on each of four plates. Scoop about 1/2 cup cookies and cream ice cream beside it. Top with 1/4 of the strawberries and a healthy dollop of whipped cream.
Dig in and enjoy.
---
Disclosure: I was compensated for my time in creating and promoting this post. I also received two CUTCO knives to use for it as well. All opinions are, as always, purely my own.