Once upon a time, I used to wonder why farmers markets didn't open earlier in the year.
Here in Connecticut, many don't open until late June (though there are a few that open earlier), which seemed cruelly late. Why should we have to wait so long to have access to fresh, local fruits and vegetables?
But I've since learned a lot more about growing, and now understand the process a lot better. Many markets don't open earlier because until mid- to late-June, there just isn't much to sell.
Our local farmers market finally opened in my town this week … and I had to miss it. Usually, I would just change my plans and shift things around to see all the local purveyors who bring my favorite pesto, the best mozzarella around and amazing semolina bread, not to mention all the fresh fruits and vegetables.
But this time I couldn't.
See, there are some big changes happening behind the scenes here and they've temporarily left me with even less flexibility than usual. But it's for a good cause because when this hectic time is over next week, I will be freer than I have been in a while.
That's a good thing.
If it seems like I have been posting more irregularly, it's simply because I've been swamped with work. Then there was life and motherhood and the end of the school year to contend with as well. As much as I wanted to share some delicious new creations on here, I have had to prioritize the musts over the wants. Don't worry though, the craziness will be over very soon.
In the meantime, we're starting to eat like it's summertime.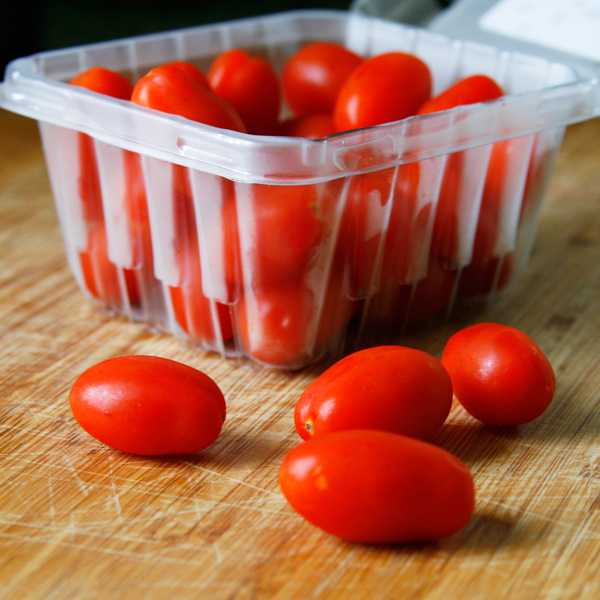 Sweet little grape tomatoes are rather summery, right? Tomatoes aren't quite in season here yet but they will be soon. In the meantime, the ones at the grocery store are pretty good (though not the fabulous ones of later in summertime). These pretty babies were prime for roasting with a drizzle of olive oil and a sprinkle of salt and pepper, which renders them sweet meaty bits of goodness.
Now, yes, I am asking you to turn on the oven and roast tomatoes for a half-hour when it's hot outside. But trust me, the results is completely worth the horror of it. The tomatoes in this recipe are pretty addictive.
Once the tomatoes are all roasted and cooled down, you toss them with cooked whole wheat pasta, fresh basil, chickpeas and a quickie homemade red wine vinaigrette. Let the flavors all mingle together in the fridge for a bit. It does wonders.
Then, it's all ready to enjoy. Serve this at your picnic table with something fresh off the barbecue. Or pack it up and take on a picnic.
I think this could be my new favorite pasta salad. The pasta salad of 2012, if you will.
What are you enjoying for picnics these days?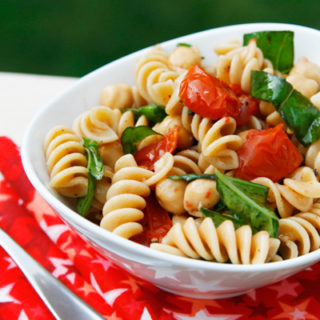 Roasted Tomato, Basil and Chickpea Pasta Salad
Ingredients
1 pint grape tomatoes, rinsed and halved
1 tbsp extra virgin olive oil
salt and pepper
4 oz whole wheat rotini, dry
1 15.5 oz-can chickpeas, drained and rinsed
1 cup fresh basil, roughly chopped
Vinaigrette:
1/3 cup extra virgin olive oil
1/4 cup red wine vinegar
1 clove garlic, minced
salt and pepper, to taste
Instructions
Preheat the oven to 350 degrees. Spread the halved tomatoes onto it and drizzle with olive oil. Sprinkle liberally with salt and pepper. Slide into the oven and roast for 20 minutes. Stir well, scraping the bottom of the pan as possible. Cook for an additional 10 minutes. Remove from the oven and cool.
Meanwhile, cook the pasta according to package directions. Rinse with cool water after draining.
In a large mixing bowl, toss together the roasted tomatoes, rotini, chickpeas and basil. Set aside.
In a small mixing bowl, whisk together the vinaigrette ingredients. Pour over the tomato and pasta mixture and toss well to coat. Chill in the fridge for at least 1 hour.
Enjoy.