Fresh Swiss chard adds an earthy element to this tangy, bright sauce. This Swiss Chard Chimichurri recipe is a must-try.
Between you and I, my favorite use for greens is in raw preparations. Salads are great. Chopped and stuffed in sandwiches is yummy too. And they are also pretty amazing in sauces.
Greens add a pleasant earthiness that shines when whirled with garlic, oil and other ingredients for a variety of sauces. And one of my very favorite sauces is chimichurri.
Have you had it? Do you love it too?
Chimichurri is an Argentian sauce traditionally used on grilled meat. Usually made with parsley, I've found that it can be amazing with other herbs too — like in basil chimichurri.
Turns out, chimichurri is also great made with Swiss chard. Swiss chard has a milder, slightly sweeter flavor than other greens, which works exceptionally well in this sauce. No, it's not traditional — but it is so, so good.
Try this Swiss Chard Chimichurri sauce on steak, chicken, fish, potatoes — anything. It's awesome.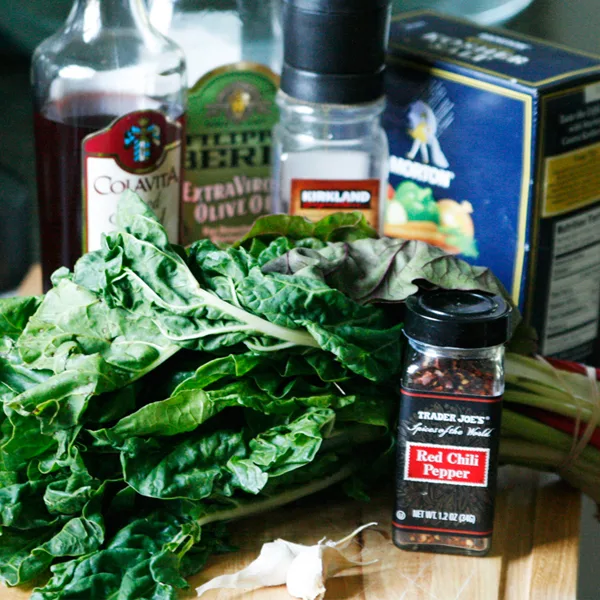 Swiss Chard Chimichurri Sauce
Ingredients
1 cup packed Swiss chard leaves
3 cloves garlic, crushed
1/2 cup extra virgin olive oil
2 tbsp red wine vinegar
1 tsp kosher salt
1/4 tsp pepper
1/4 tsp crushed red pepper
Instructions
Combine all ingredients in a food processor. Process until the chard is chopped into uniformly small bits. Use immediately, or cover and refrigerate until ready to use (you'll want to bring it back to room temperature before using).