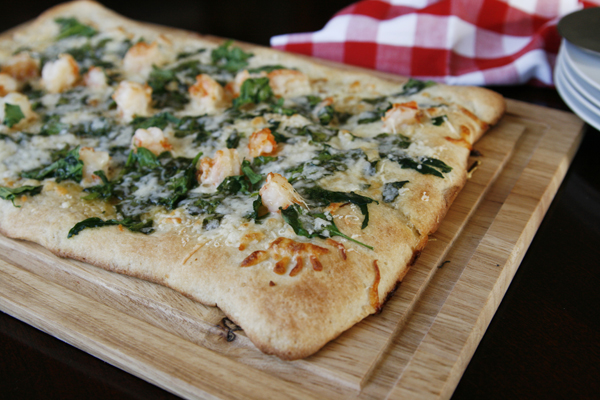 Thanksgiving is now less than a week away. But we're going to take a tiny break from all the Stress-Free Thanksgiving discussion to talk about something equally important: Friday night fun. Just about every Friday, the kids and I dash off to the library for books and movies after school. And when we return, we pop a movie in and have a little fun family time.
And what goes with that fun family time? Well, popcorn – natch. But also pizza.
Takeout can get pricey — especially when your son seems to be in an inhale-everything-in-sight phase (we're working on that one …). But making it at home? It's quick, easy and economical. And you can really have fun with the toppings. This Garlicky Shrimp, Spinach and Asiago Pizza version is practically addictive.
I think I might just be a white pizza addict. Like seriously — I will take a cheesy slice sans sauce (or maybe with sauce for dipping) any day. And bonus points if it comes with plenty of delicious garlic and bold cheese.
This one is super simple because I use a premade dough from Pillsbury that only needs to be unrolled. For the toppings, you need to saute the garlic and shrimp, then just pile everything on the dough and bake. It's ready in about 20 minutes — including the prep time.
What do you like on your pizza?
Garlicky Shrimp, Spinach and Asiago Pizza
Ingredients
1 Pillsbury Classic Pizza Crust
1 tablespoon extra virgin olive oil
1 clove garlic, minced
1/4 lb jumbo shrimp, peeled, deveined and cut into quarters
1/2 cup baby spinach
1/2 cup shredded mozzarella
1/2 cup shredded asiago
Instructions
Preheat oven to 400 degrees. Grease a nonstick baking sheet with butter. Spread out the pizza crust on the baking sheet. Bake for 8 minutes.
Meanwhile, heat the olive oil in a skillet over medium heat. Add the garlic and cook for 30 seconds, until fragrant. Add the shrimp and cook, stirring frequently, until opaque – 4-6 minutes.
Sprinkle the mozzarella over the partially baked crust. Top with the garlic and shrimp (including the oil!). Tear the spinach into smaller pieces and sprinkle on the pizza. Top with asiago. Bake for 7-10 minutes until the crust is golden and the cheeses are melted.
---
Disclosure: I was compensated by Pillsbury for creating this recipe but, as always, all opinions are my own.