What's better than plain old cornbread? Banana Cornbread sweetened with honey! It's a fabulous, fresh take on northern-style cornbread.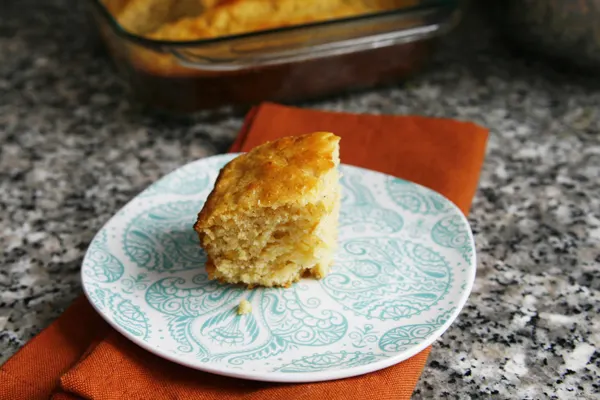 The last three months of 2012 brought so much difficulty, grief and heartache. So when 2013 rolled in on Tuesday, I had some pretty high expectations for it — and I wasn't about to enter 2013 without whatever extra luck we could manage.
In planning the menu for our annual New Year's Day Family Meal, I took lucky foods into account. This year just has to be better.

Among our lucky dishes was cornbread, which is considered auspicious because of its golden hue. I magnified it, adding kernels of corn to the batter. And it took on a healthier note by replacing half of the sweetener and butter with mashed banana. The remaining sweetener is honey — another lovely golden food.
This was a huge hit — in fact, I think it might be our new favorite cornbread.
Eat. Live. Be.
You might remember that Cate, Patsy, Joanne and I did this #eatlivebe thing back in 2011 and for a little in 2012. Well, back in November, we decided to revive it again for 2013. We discussed the hows and whys and were all gung ho … and then everything happened. Until yesterday, I'd forgotten.
But since health is among the foremost of my New Years goals, I still wanted to participate — even if my first post is a wee bit late (sorry girls!). So, on with it, right?
For 2013, my health goals are simple:
Use that Gym Membership — I have belonged to a gym since summertime when I went pretty religiously. But belonging and going are two different things. In 2013, my goal is to go to the gym at least two times each week — it's two more times then I am going now.
Find and Stick to an Eating Plan — Since I prefer to eat a variety of foods, most diets don't appeal to me. But tracking what I eat does work for me, as long as I stick to it. I need to find a tracking program that will work for me with an easy interface. I've used several that I've liked in the past, but really what's most important is that it work for me now.
Lose, Lose, Lose — In the past, I have set lofty weight loss goals. These numbers, however important, haven't helped me. This year, my only goal is to lose weight. It really doesn't matter how much as long as the scale goes down.
Banana Cornbread with Honey
Ingredients
1 cup yellow cornmeal
1 cup all purpose flour
1 tablespoon baking powder
1 teaspoon salt
1 overripe banana, mashed
1/4 cup honey
2 eggs, lightly beaten
1 cup nonfat milk
2 tablespoons unsalted butter, melted and cooled slightly
1 cup frozen corn
Instructions
Preheat oven to 400 degrees. Grease an 8x8-inch square baking pan and set aside.
In a large bowl, sift together the cornmeal, flour, baking powder and salt.
Make a well in the center of the dry ingredients and add the banana, honey, eggs, milk and melted butter. Fold into the dry ingredients. Add the corn and stir to combine
Pour the batter into the prepared baking pan and tilt to distribute evenly.
Bake for 28-30 minutes, until golden and a toothpick inserted in the center comes out clean.