An easy recipe for Raspberry Swirl Cheesecake with a thick cookie crust and a tart swirl of raspberry on top. Only the cookie layer needs baking.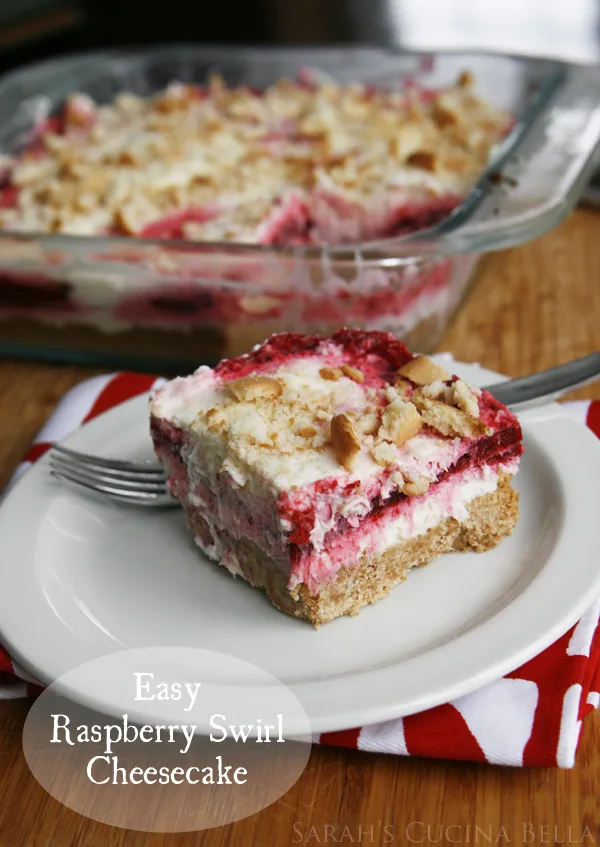 After Will was in bed last night, Shawn plucked Will's old coat off the couch and hung it up. He'd tossed it there when we returned home without a second thought, as kids do. It's a battered and worn coat that we designated for outdoor play after getting snagged a few times one raucous afternoon outside.
Yesterday, as we headed out the door for an early dinner at our cousin's house, I'd told him to grab it knowing how much mud and mess four kids age seven and under can get into. This morning, as I returned from putting Will on the bus, I spied the coat near the door and took note of its heavy layer of dirt.
Clearly, it was a good call.
There was a time not that long ago when a dirt-covered coat would have irritated me. I would have grabbed it from the hook and tossed it to the basement for a good cleaning — with a heavy sigh, no doubt. But things change. Perspectives change, and I can say with great certainty that mine has. So when I saw that dirty coat earlier today, I simply smiled.
Yes, I'll still wash it soon. But the dirt on the coat no longer bugs me — in fact, quite the opposite. That dirt and the well-worn spots on the coat aren't signs of some deficiency on my part but rather visual confirmations of the joy and fun my son had yesterday with family.
That dirt is signs of a life well-lived. And really, that is what matters.
These days, I've finally learned to not sweat the small stuff (yes, a dirty coat that he uses for playing only is definitely just 'small stuff'). Because at the end of every day, I want all of us to go to sleep knowing that we had joy. We had happiness. We had fun.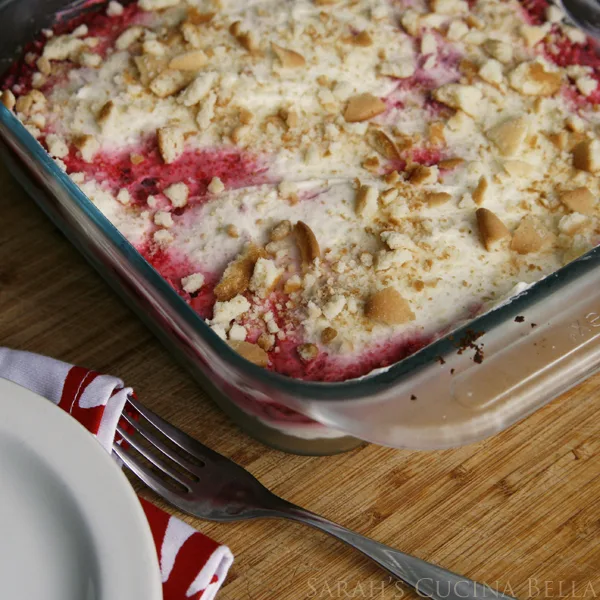 That's probably why I also have been having more fun with dessert around here too. Dessert is still a once in a while thing, but it's a more often once in a while thing. I mean it's something that brings such cheers and joy. There is nothing wrong with that.
When I spotted a recipe for something called Raspberry Ripple Dessert in a very old cooking pamphlet from Occident/King Midas, I knew I wanted to use it as inspiration for a new recipe. The original recipe called for a two-crust pastry — one for the base and one to be crumbled on top. Also, given the amount of sugar involved (not a lot) and citrus, it was a lot tarter than I like my desserts.
My version, a Raspberry Swirl Cheesecake, starts with a really simple, thick cookie crust. It's made with just two ingredients and bakes into a rich, vanilla-tinged layer. It's topped with a slightly tart, super fluffy cheesecake that's swirled with an easy, quick raspberry topping. Rather than baking, it's refrigerated to firm up.
I was really tempted to call this a no-bake Raspberry Swirl Cheesecake, but that's not entirely true. The crust does get baked, but the cheesecake part doesn't. And altogether, this is easy as can be.
Easy Raspberry Swirl Cheesecake
This creamy cheesecake dessert is served cut into squares. It has a thick layer of cookie crust topped with sweet and slightly tart cheesecake with a tart raspberry swirl.
Ingredients
2 cups vanilla wafers
1/2 cup unsalted butter, , cut into pieces
1/2 cup granulated sugar, , plus 2 tbsp, divided
1 8- oz package cream cheese, , softened to room temperature
1 tsp lemon zest
1 cup heavy cream
2 tbsp cornstarch
1 package, (10 oz) frozen raspberries, thawed
Additional vanilla wafers, (for garnish), if desired
Instructions
Preheat oven to 400 degrees.
Combine the vanilla wafers and butter in a food processor and process until they form course crumbs. Press into an 8x8-inch oven-safe pan. Bake for 10-12 minutes, until golden at the edges.
Once the crust is out of the oven combine 1/2 cup granulated sugar with the cream cheese and lemon zest in the bowl of a stand mixer fitted with the whisk attachment. Blend until smooth. Add the heavy cream and continue blending until very thick and smooth. Pour about 2/3 of the cream cheese mixture onto the crust.
Meanwhile, combine the remaining sugar with the cornstarch and raspberries in a saucepan. Cook over medium heat, stirring frequently, until the cornstarch dissolves and the raspberry mixture thickens. It should move together – about 10 minutes. Immediately pour over the cheesecake layer and spread around. Top with remaining cheesecake and spread gently, allowing the cheesecake and raspberry to swirl together a little. Sprinkle with crumbled cookies if desired.
Chill, covered, for at least two hours before serving. Cut into nine squares
Notes
Adapted from a very old recipe for Raspberry Ripple Dessert found in the Occident/King Midas Pie & Desserts Recipes Booklet -- no publication date located.