I am a member of the Collective Bias® Social Fabric® Community. This shop has been compensated as part of a social shopper insights study for Collective Bias and its client.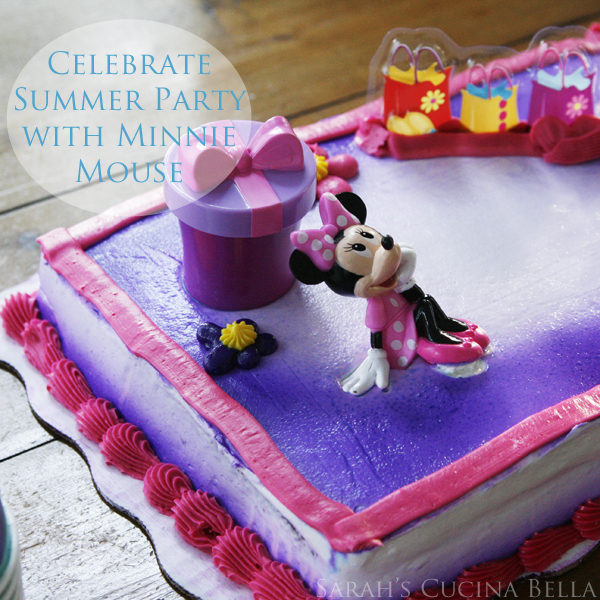 Do you ever have a party just to … have a party? Celebrate the ordinary with a cake and decorations? After the year we've had, I was so happy to throw a really informal Summer Celebration with our family. It just seemed like a great way to make an ordinary Wednesday in summer a little more special.
Even when you are celebrating the ordinary — celebrating summertime, fun and family — you need decorations. And cake. And good food. We had it all in spades.
I found this Minnie Mouse bow hanging centerpiece in the Hallmark Disney-themed party section at Walmart. It went perfectly with our Minnie Mouse cake and Minnie decorations. (You can see more of our shopping experience in my Google+ Celebrate Summer album.) You could really decorate for the best birthday with all the fun decor they have there … and it's convenient that Walmart Supercenters also have bakeries and full service grocery stores too — so you can literally get everything you need for your celebration there.
I love this treat container in the shape of Minnie's bow that we found in the decorations section too. It was perfect for holding chips for a crowd. And since it's divided, you could even put two different types of chips or whatever in there if you were so inclined. Our guest of honor at our Summer Celebration party was Minnie herself. Isn't this the cutest little beanie? Found her in the toy section.
Confession: I used to wonder what the huge Disney obsession was. I would see moms going nuts over social media about trips to Disney World, Disney-themed parties and whatnot. But I didn't quite get it. I mean, I love Mickey and Minnie as much as the next girl, but it just seemed over the top.
Then I went to Walt Disney World in 2012 for a conference, and Shawn and the kids tagged along. It was my second trip to Disney ever (the first was when I was 6), and I fell in love. There was just something magical about the whole thing. From the moment we set foot on the Disney property, it was like we'd been transported to this place of wonder and joy. When the opportunity arose to go again this year, I jumped at the chance.
It's official: we've become Disney-aholics.
And my favorite Disney character? Minnie Mouse. But that's nothing new. I've always been a fan — in fact, a Minnie Mouse doll from my first Disney trip in the 1980s sits on top of my desk. And in my cupboard? Two Minnie mugs. I love my Minnie.
Back to the party …
Hungry? This party was all about celebrating summertime, so dinner was a perfect summer meal. In fact, most of the veggies came from my CSA share. We had a big salad, grilled chicken, salmoriglio sauce and lemony farro. I wanted a simple, fresh meal that everyone would love and this did the trick.
When planning a meal for a gathering like this, you want it to be quick and easy so that you aren't overwhelmed with preparation (that takes the fun out of it!).
And, of course, we had a cheese plate. Cheese plates are one of my very favorite things to serve at every party — whether it's a birthday celebration or just celebrating the ordinary. They are easy and everyone always loves them. For this cheese plate, I picked up this prosciutto-wrapped mozzarella and apple smoked cheddar at Walmart as well.
And, of course, we finished it all off our Summer Celebration with the adorable Minnie cake … how fun is that?
When was the last time you celebrated the ordinary? Take the time. Have fun. Enjoy life. You never know when everything may change in an instant — so enjoy every moment you have with your loved ones.
PS – Want to bring a little more Disney magic to your party? Check out this video I made of a Disney chef demonstrating how to frost and decorate beautiful cupcakes:
Disclosure: I was compensated for creating this post but all opinions are my own.