Ever wonder if the resorts at Disney are really worth it? Take an inside look at some of Disney's best resorts. Today? Disney's Art of Animation Resort.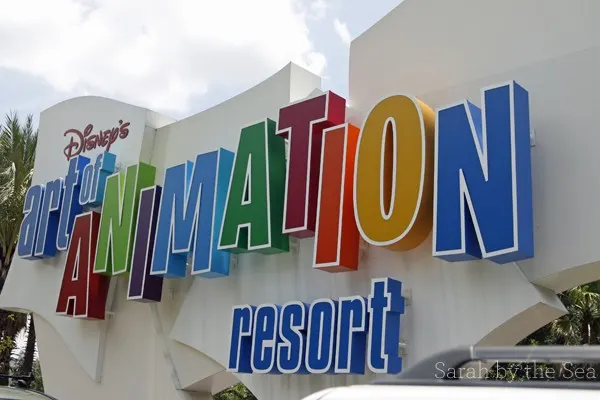 Have you been to Walt Disney World? It's a truly magical place for kids and adults alike (yes, really). I love exploring all the parks and stepping into the fantasy and fun. This past May, my family drove to Orlando, where I was attending a conference at Walt Disney World. It was a much-needed trip that brought smiles to all of our faces. There's just something about being in the happiest place on earth that makes everything a little brighter.
On our last night there, I booked a room at the Art of Animation resort. It's been on my must-see list, so I was excited to finally check it out.
The Art of Animation is a newer Disney resort. It opened in May 2012, and features family suites and a few other two-bed rooms. It's a value resort, but has prices on the high end of value. I paid $126 for our night there (plus tax, of course) — we had a room, not a suite. The suites are pricier, but do provide more privacy and quiet for parents and kids at night.
We were in The Little Mermaid room. These are the only non-suite rooms at Art of Animation. Everything — inside and out — was themed after the classic story. Outside, there were huge statues of characters from the story (other buildings feature The Lion King, Finding Nemo and Cars). It was really pretty and fun — and the kids loved checking out all the details.
I also loved seeing the intense attention to detail in the resort — the storybook theme was everywhere in our room from the shower to the chairs (check out the sea life carpet!!). The tabletop even had the score of Under the Sea on the top. What's more is that because this resort is so new, everything just felt so clean and fresh.
And Disney took it a step further too, with the pool decorated like Nemo's underwater world. It was so fun to check out the big jellyfish sculptures.
Art of Animation is on a small lake and has walking paths all around it. This resort is spread out a bit, so plan to walk a lot (and add in extra time for it if you need to be somewhere by a certain time).
While staying at the Art of Animation resort, used the complimentary bus transport to the Disney parks. This was my first time using Disney's bus transportation, so I was worried that it would take a lot of time away from our park time. However, I was pleasantly surprised. The clean, cool buses are easy to use and also fast and efficient. Also, the lines to catch the buses at the resort and elsewhere were way shorter than the ones I've experienced with the Monorail and ferries for other resorts.
When we were leaving, the front desk staff was having fun with a little song and dance — which made me totally want to stay longer (we almost did). Loved staying here.
Art of Animation Resort … At a Glance
The Rooms – I didn't see the suites, but the rooms were small-ish. However, when you are at Disney, how much time do you really spend in the room anyway? Also, the rooms are slighter larger than the All-Star resorts.
The Decor – Decorated like storybooks. Huge attention to detail.
The Amenities – Pools, restaurant (quick service), store, arcade
The Food – Better than the All-Star resorts, but not as good as the deluxe resorts.
Overall, I really liked this resort. It's my first choice for booking in the future.
---
Disclosure: I paid for this room myself. Disney had no part in this blog post, and has no idea I even planned to write it.