Making a creamy beloved soup is a cinch with this easy Vitamix Broccoli Cheddar Soup recipe. And best of all, it's ready in about 10 minutes.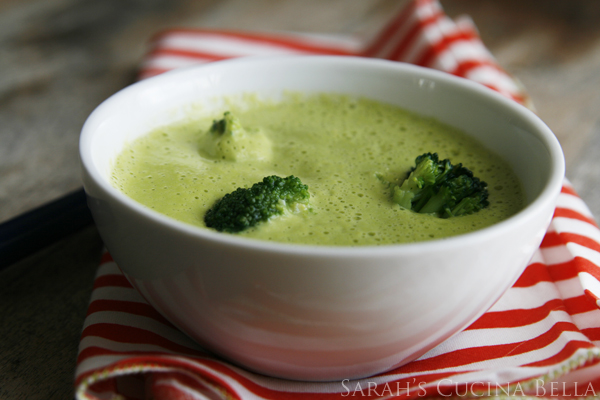 Last night, I returned from a weekend trip with one of my favorite clients and all I could think about was climbing into my own bed.
There's something about the comfort of home that can make returning from a crazy fun trip almost as awesome as being on the trip. And I really love my own pillow, although the pillows at the place I stayed were nice.
It also certainly doesn't hurt when your kids are thrilled to pieces when you return.
Speaking of comforts, this soup? Total comfort food. In fact, if I could only eat one soup ever for the rest of eternity, it would be Broccoli Cheddar Soup — and probably this crazy easy one. Made with just a few simple ingredients, it's fresh, fast and delicious.
But I have to confess, this recipe does call for a special piece of equipment: a high-speed blender that heats. I use a Vitamix but you could make it with a Blendtec too. If you don't have one, you could probably make this work with a really good blender and a pan on the stove — but it won't be as easy and simple that way.
Over the years (eight and counting!), I have always shied away from publishing recipes on SCB that required special equipment. Sure, I use a rice cooker for my rice and own a rotisserie, but this site is about accessible food that you can prepare in a typically outfitted kitchen. So, when my husband gave me a Vitamix for Christmas — you know, the fancy high-speed blender that can heat while it blends — I wasn't sure if anything I made in it would have a place here.
But then a former colleague posted about her new Vitamix. And a cousin's friend raved about hers, and her mom's. And I heard others talking about their Blendtec blenders, which have similar features. So I decided that maybe once in a while, a specialty item like this might be okay. And besides, this Vitamix soup is really good.
Filled with broccoli, carrots, a little onion, cheddar, chicken bouillon and milk — making this Vitamix broccoli soup couldn't be easier. Add the ingredients. Blend until hot. Mix in extra bits of broccoli. Dig in.
This makes four lunch-size portions. But if you are a big eater, you might want to double the recipe.
Do you have any Vitamix soup recipes you love? I would love to hear about them!
Easy Broccoli Cheddar Soup
This recipe is intended to be made in a high-speed blender that heats like a Vitamix or a Blendtec.
Ingredients
2 1/2 cups broccoli florets, steamed until just tender
2/3 cup julienned carrots
1 tbsp finely chopped onion
1/2 cup grated cheddar, freshly grated is best
1 cube chicken bouillon (or equivalent)
1 cup milk
Instructions
In the bowl of a high speed blender that heats (I use a Vitamix), add 1 1/2 cups broccoli along with the carrots, onion, cheddar, bouillon and milk. Per manufacturer's directions, turn on the blender and blend until smooth and hot – about 5-6 minutes. On the Vitamix, this means turning the blender on its' lowest setting and increasing the speed slowly to its highest setting before flipping the switch to high. This may vary depending on your blender.
Once heated, stir in the remaining 1 cup of steamed broccoli. Enjoy.
Notes
Recipe adapted from a Vitamix recipe.
Nutrition Information:
Yield:

4
Serving Size:

1
Amount Per Serving:
Calories:

163
Total Fat:

8g
Saturated Fat:

4g
Trans Fat:

0g
Unsaturated Fat:

3g
Cholesterol:

23mg
Sodium:

373mg
Carbohydrates:

15g
Fiber:

4g
Sugar:

3g
Protein:

10g