Sweet highbush blueberries, salty feta cheese, creamy roasted cauliflower come together in this delicate, unexpected salad. 
This post is sponsored by US Highbush Blueberry Council in connection with the Mom It Forward Blogger Network.
As the close of 2013 came, I found myself undergoing a major shift inside. It had a lot to do with health and career trajectory — for the last few years, I have struggled with my weight but couldn't seem to clear the mental hurdle to do anything about it.
But suddenly, there I was on the other side of the hurdle trying to figure out what came next. Meanwhile, after settling so fully into women's interest and food writing over the last few years, I felt the strangest pull to shift a little. I don't want to let go of the beats I have worked hard to cultivate, but I want more — so I decided to stop fighting my wanderlust, a word I have been using a lot lately, and built a new facet to my career as a travel writer.
Since then, I have lost 10 pounds (more to go!) and started taking a great travel writing class. Since it's February, and both goals are still happily forging ahead, I feel like it's okay to admit that I am in a healthier of mind these days.
And you know what that means? When I was trying to decide what to create with the big, sweet blueberries I picked up at the store recently, I didn't want to go the default sweet route.
Meet Cauliflower Blueberry Couscous Salad with Meyer Lemon Vinaigrette.
Sweet highbush blueberries, salty feta cheese, creamy roasted cauliflower … these are the things that come together in this delicate salad. It's not a traditional mix, for sure. But the combination of flavors and textures create something that is both waist-friendly and unforgettably good. Sure, I mean blueberries are a total summer delicacy and cauliflower? Its heyday is winter.
But sometimes the best fits are the ones that are a little expected. Together, dressed with a light and tangy Meyer lemon vinaigrette, this hits all the right flavor notes.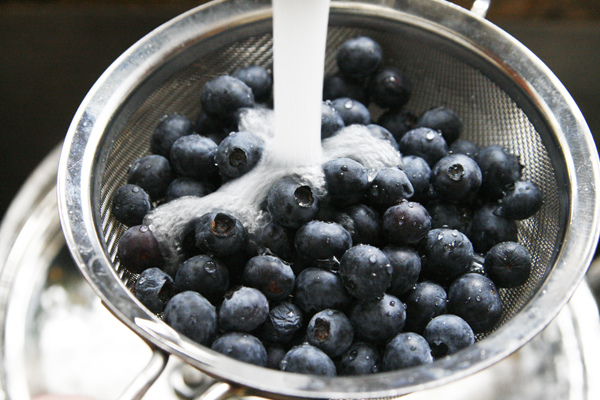 And while we are talking blueberries and health, it's important to note how amazingly good for you these little globs of blue goodness are. Total powerhouses of health, blueberries have only about 84 calories in a cup, according to World's Healthiest Foods.
Better yet, blueberries are rich in Vitamin K and a range of antioxidants. All good things for a healthy mind and body.
For more blueberry recipes, visit the U.S. Highbush Blueberry Council website.
Cauliflower Blueberry Couscous Salad with Meyer Lemon Vinaigrette
Sweet highbush blueberries, salty feta cheese, creamy roasted cauliflower come together in this delicate, unexpected salad. 
Ingredients
1 lb cauliflower, broken into small florets
4 tbsp extra virgin olive oil, divided
Salt and pepper, to taste
1/2 cup diced red bell pepper
1/2 cup chopped shallots, about 2
1 1/4 cups vegetable broth or stock
1 cup raw couscous
3 tbsp Meyer lemon juice
1 1/2 cups fresh blueberries
3/4 cup crumbled feta cheese.
Instructions
Preheat the oven to 425 degrees. Line a baking sheet with nonstick aluminum foil (or just use a nonstick baking sheet). Spread the cauliflower on the baking sheet and drizzle with 2 tablespoons olive oil. Sprinkle with salt and pepper, as desired.
Roast the cauliflower for 10 minutes. Stir well. Add the red bell pepper and shallots to the baking sheet and toss to combine. Return to the oven and roast for an additional 7-10 minutes, until the cauliflower is tender. Remove from the oven and set aside.
In a medium saucepan, bring the vegetable broth or stock to a boil. Stir in the couscous, remove from the heat and cover. Let stand for 5 minutes, and then fluff with a fork.
In a small bowl, whisk together the remaining 2 tablespoons of olive oil with the Meyer lemon juice and salt and pepper. Taste and adjust seasoning as desired.
In a large mixing bowl, combine the cauliflower mixture, blueberries and the couscous. Stir well. Drizzle with the Meyer lemon vinaigrette. Toss well to combine. Sprinkle with feta and toss again.
Enjoy warm or chilled.
---
Disclosure: I was compensated for this post but all opinions are my own.
Sarah Walker Caron is a cookbook author, freelance writer and founder of Sarah's Cucina Bella. She is the author of four cookbooks including The Super Easy 5-Ingredient Cookbook and One-Pot Pasta, both from Rockridge Press. A single mother to a tween and a teen, Sarah loves nightly family dinners, juicy tomatoes plucked fresh from the vine and lazy days on the beach. She also adores reading and traveling.