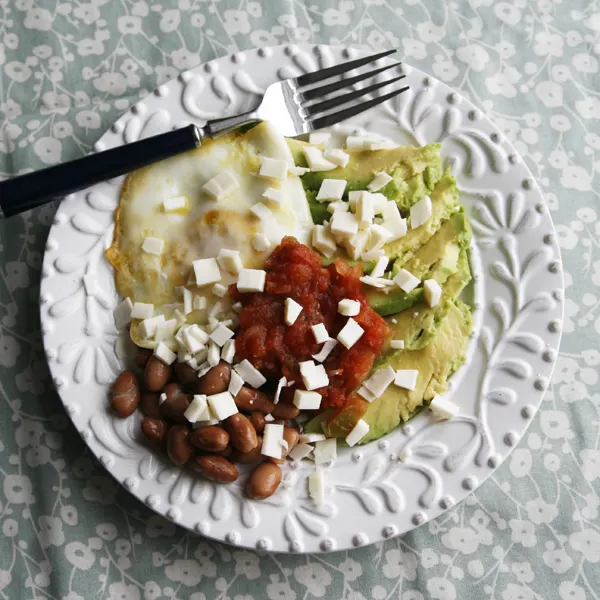 In some ways, I can be very predictable.
If you take me to a clothes store, I will have to touch the fabrics of anything that intrigues me — because the texture is as important as the look for me. If we go out for an after-work drink, I will probably order a Tanqueray and tonic and squeeze the lime in before I take a sip. And if any variation of huevos rancheros is on a menu, you can safely bet that I will order it.
It's one of those dishes that I can't get enough of.
But let's be clear here: this isn't huevos rancheros — I have taken too many liberties with the dish to call it that.
The traditional corn tortilla is out — I never liked it that much anyway. And refried beans are traded in for some meaty pinto beans sans frying. While when you order huevos rancheros out, you typically will get two eggs, I've also reduced that to one in the interest of keeping this dish as fit as possible.
But the essence of the dish is still here. Based on a farmer's breakfast, this hearty dish is lightened up but still filling. It's perfect for starting a busy day, but simple enough to be whipped up fast. A fried egg is served hot with salsa, beans, avocado and creamy, mild queso blanco (though, this is also delicious with sharp cheddar).
Basically, it's all the things that make me love this dish, without any hassle.
I really love avocado. And this dish. It's perfect for breakfast.
Of course, if you are looking for a more authentic rendering, the Huevos Rancheros recipe on Simply Recipes is a good bet.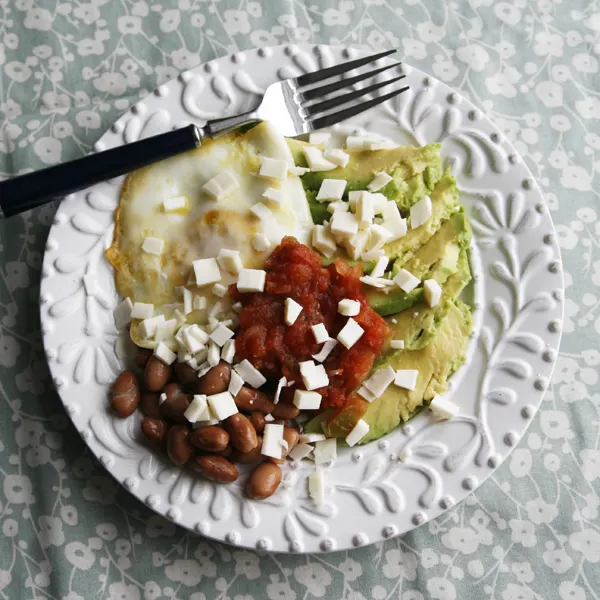 Fried Egg with Beans, Avocado and Queso Blanco
Ingredients
1 tsp olive oil
1 large egg
1/2 avocado, , sliced
2 tbsp rinsed pinto beans, (from a can)
2 tbsp medium or hot salsa
1/2 oz. small diced queso blanco
Instructions
Heat the olive oil in a nonstick frying pan. Crack the egg into the pan and cook, flipping once, until the white is set.
Meanwhile, arrange the avocado on a plate with the pinto beans. Slide the cooked egg onto the plate and add the salsa and cheese.
Enjoy immediately.
Notes
Sharp cheddar can be substituted for the queso blanco, if desired.