Boar's Head Brand®
for
SocialSpark
. All opinions are 100% mine.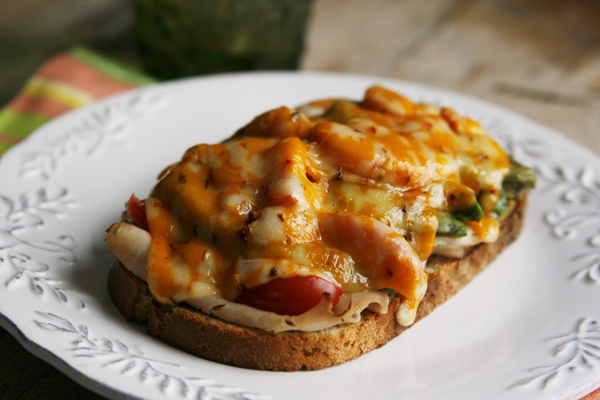 When the calendar flips to March, college basketball fans are always abuzz. This is the month that brings brackets and important games as the college basketball season winds its way to the championship. It's a make-or-break time when a single game can be the difference between a Final Four finish and … well, not a Final Four finish. And really, what every team is striving for is to be number one. Here in Connecticut, the UConn women's basketball team has shown time and again what it means to be winners — they've brought home 8 NCAA championships since 1995 (seven of which have been since 2000). You can't escape March Madness here. It seems as though everyone gets into it. When Boar's Head approached me about participating in a different kind of March Madness — one that pits game day recipe against game day recipe — I was all in. I mean, we adore game day food, and Boar's Head is my preferred brand for deli meats. So it's a perfect match. For this, I was challenged to use the Boar's Head Brand
®
 Bold
®
 line of deli meats, which includes meats, cheeses and a condiment with rich, loud flavors.
My sandwich? Spicy Jerk Turkey Melts. It pairs Boar's Head Brand Jerk Turkey
®
 Breast and Boar's Head Brand 3 Pepper Colby Jack
®
 Cheese with tomatoes and avocado for a cheesy, spicy, creamy open-face sandwich on marble rye bread. Toasty and easy to whip up, these babies are perfect for digging into while watching your favorite college basketball team battle it out for the NCAA title.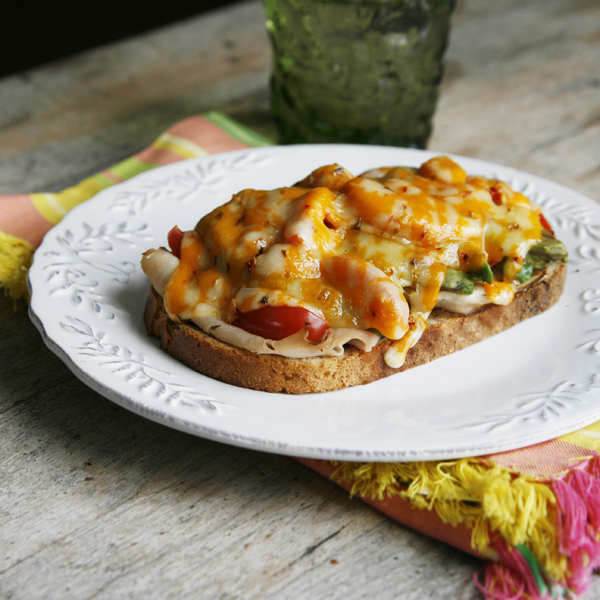 Round 1 begins this week — and my sandwich is going head to head on March 7. Be sure to pop over and vote for it! Please? Just click over to the Boar's Head® Boldest Bracket Challenge to join in the voting fun.
And guess what? If you vote for a winning sandwich, you are automatically entered to win one of several great prizes tied to each round of the competition:
Round 1: (8) Boar's Head Bold t-shirts
Round 2: (4) $50 gift card to purchase Boar's Head Bold products
Round 3: (2) $100 gift card to purchase Boar's Head Bold products
FINAL: iPad Air to stream all the games & access Boar's Head Bold recipes (includes custom Boar's Head case and $500 gift card) to cater your game-watching party with Boar's Head products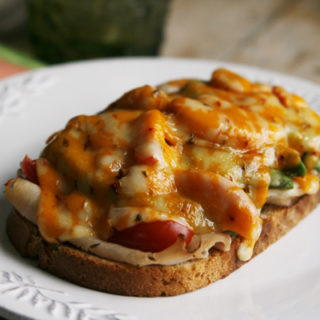 Spicy Jerk Turkey Melts
Ingredients
4 slices marble rye bread
8 slices Boar's Head Brand Jerk Turkey® Breast, thinly sliced
1/2 cup grape tomatoes, chopped
8 slices Boar's Head Brand 3 Pepper Colby Jack® Cheese
Instructions
Preheat oven to 350 degrees F. Line baking sheet with aluminum foil.
Place four slices of bread on baking sheet. Top each with 2 slices of Jerk Turkey Breast.
Top each with ¼ of avocado and tomatoes. Cover each with two slices of 3 Pepper Colby Jack Cheese.
Slide baking sheet into oven and bake for 8-10 minutes, until cheese is melted. Enjoy immediately.
Did you vote? Let me know in the comments so I can thank you!!
Disclosure: I was compensated for creating this post but all opinions are my own.
Sarah W. Caron is a writer, editor and recipe developer.

This is a Sponsored post written by me on behalf of