Tender, lightly sweetened muffins are dotted with tart raspberries and sweet white chocolate in this Raspberry White Chocolate Muffins recipe.
This post is sponsored by Land O'Lakes, but all opinions are my own.
Hello, my name is Sarah and I am raising two muffin addicts. There, I said it. When we go to the grocery store, they inevitably ask for muffins. Whenever they spy the muffin tin, they inquire when I will bake some. And while I don't always say yes, I do love surprising them with homemade muffins whenever I have the opportunity. When you can make your kids' eyes light up with a mere 30 minutes of cooking, why wouldn't you?
And these muffins? They love, love, love them because of the combination of flavors. This is a recipe I have been making for years — with inevitable success because they are so good. Sweet white chocolate and tart raspberries combine in this lightly sweetened, tender muffin with a buttery, sugared top.
They are easy enough to whip up on a lazy weekend morning.
Warm muffins are extra special — and for me there is nothing better than warm muffins spread with a little butter. I love the combination of airy muffins and cool butter. Better yet, LAND O LAKES® Butter with Canola Oil is perfect for this since it's always so spreadable — and can go from fridge to spreading in seconds. I also love it because it is made with just three ingredients (sweet cream, canola oil and salt) — which is kind of rare these days.
So, why not whip up a batch of this muffin recipe? And then pull out the LAND O LAKES® Butter with Canola Oil and spread some on … just add the yums.
What's your favorite thing to bake in the mornings?
Be sure to visit the LAND O LAKES® Butter with Canola Oil brand page on BlogHer.com where you can read other bloggers' posts!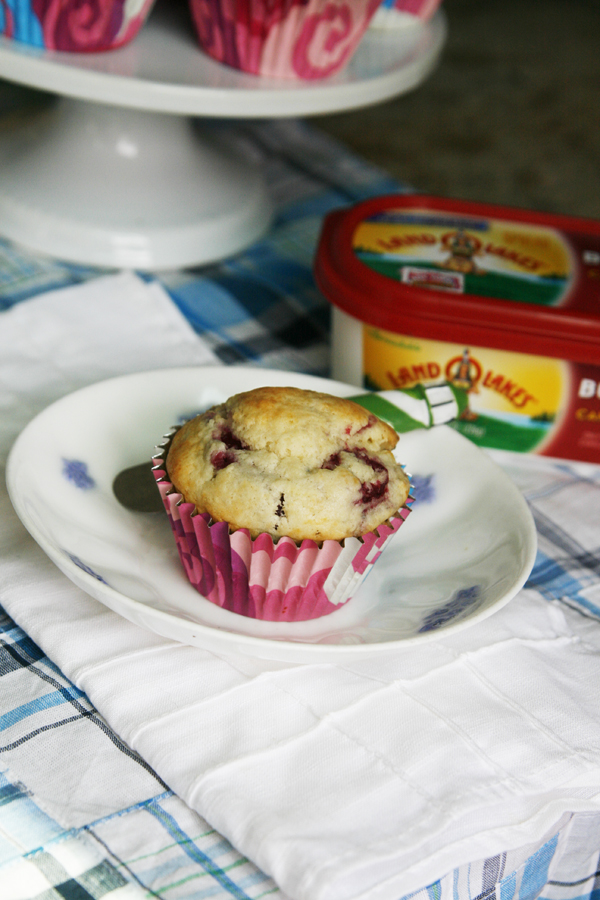 Raspberry White Chocolate Muffins
Ingredients
1 egg
1 cup skim milk
1/2 cup butter, , melted
2 cups all-purpose flour
1/3 cup granulated sugar
1 tbsp baking powder
1 tsp salt
1 cup fresh raspberries, , rinsed
1/2 cup white chocolate chunks
Topping:
1/4 cup butter, , melted
1/4 cup sugar
Instructions
Preheat oven to 400 degrees. Line 12 muffin cups with paper liners.
In a large bowl, beat the egg. Beat in skim milk and 1/2 cup butter until well combined. Stir in flour, 1/3 cup sugar, baking powder and salt until just moistened. Gently fold in raspberries and white chocolate.
Spoon evenly into the muffin cups. Bake for 22-26 minutes, until tops are golden brown and a toothpick inserted in the center pulls out clean.
Let muffins cool until they can be touched.
Once cooled, arrange the melted butter and remaining sugar in two bowls. Dip each muffin first into butter and then into sugar. Enjoy!