Sushi grade tuna is seared to perfection and served with creamy avocado over brown rice noodles in this easy, fast seared tuna seafood dinner.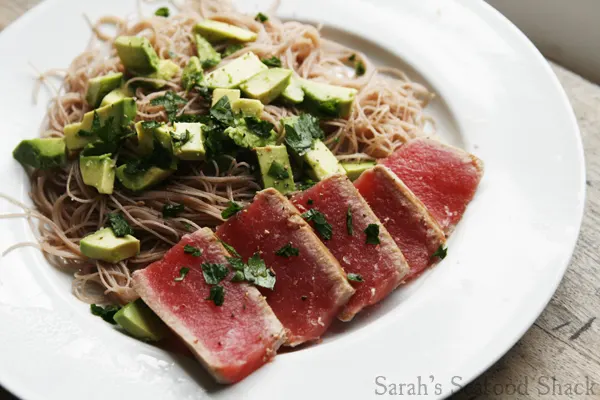 Years ago, I discovered the joys of a perfectly seared tuna steak. It's grilled quickly in a very hot pan until the outside is browned and the inside is a warm but rare. There's something about the tender, warm, red flesh that I adore — and even more so when it's served with creamy avocado. But although I used to make this more often than I should admit, I haven't in years.
But last year, I decided to whip up seared tuna for dinner. That led to two discoveries: Will, then 8-years-old, doesn't love seared tuna as much as I do, but Paige, then 5 1/2, does. That's interesting because typically Will loves everything I love — and Paige usually doesn't. Fortunately, it fell within the "like" range for both of them, which makes this a good dinner for the three of us.
And it certainly doesn't hurt that this can be made in mere minutes (you know how I love quick and easy dinner recipes!). Ready in about 10 minutes (don't forget to cook the rice noodles!), salty soy sauce adds a hint of richness with every dipped bite, bringing the whole dish together.
Quick and easy recipes like this are fantastic for busy nights. Keep an eye on your fishmonger's counter for sales on sushi-grade tuna for this. When I made it, the tuna was on sale for about $9 per pound — though I have seen it as low as $6-$7 at times.
Do you like seared tuna? How do you serve it?
Seared Tuna with Avocado and Brown Rice Noodles
Ingredients
1 lb sushi-grade tuna
Salt and pepper, , to taste
1 package brown rice noodles, , prepared and kept warm
1 avocado, , pitted, peeled and diced
2 tbsp chopped fresh parsley
Soy sauce, , for dipping
Instructions
Heat a grill pan over medium-high heat. Prepare the tuna for cooking with seasoning liberally with salt and pepper on either side. Sear the tuna for 1-2 minutes per side, flipping once – to desired doneness. Remove from the pan and let sit for five minutes before slicing into 1/4-inch slices against the grain.
Divide the rice noodles evenly among four plates. Top each with avocado, tuna slices and a sprinkle of parsley. Enjoy with soy sauce for dipping.
---
A version of this post originally appeared on Sarah's Seafood Shack, which has been folded into Sarah's Cucina Bella.