Chewy oatmeal cookies are dotted with raisins and chocolate chips in this easy egg-free Oatmeal Raisin Chocolate Chip Cookie recipe.
Spreading out the old blue patchwork quilt on the concrete of an outdoor plaza last night, Will remarked on how glad he is that we still use his old quilt. I'd bought that quilt years ago, when it was nearing time for Will to leave his crib. At first, when I converted the crib to a toddler bed, we used it folded over — perfect in the winter months. Then, later, it covered his first big boy bed.
Now, we use that quilt as a beach blanket or a place to sit during an outdoor film, like last night. It's been given a new life, in a way.
It was under the folds of that quilt that Will and Paige first "read" together, flipping pages, looking at pictures and sometimes making up stories to go with them. Back then, they were both so little and innocent. Their days were filled with art projects, swinging on their jungle gym and trips to the beach. Will was in preschool and Paige was a toddler.
That's also when they really began forging a deep sibling bond that has carried on even through those days when they argue more than anything.
I'm so glad that they still curl up to read together — though now it's in separate spaces of the same room. And I'm glad they still enjoy each other's company. Usually.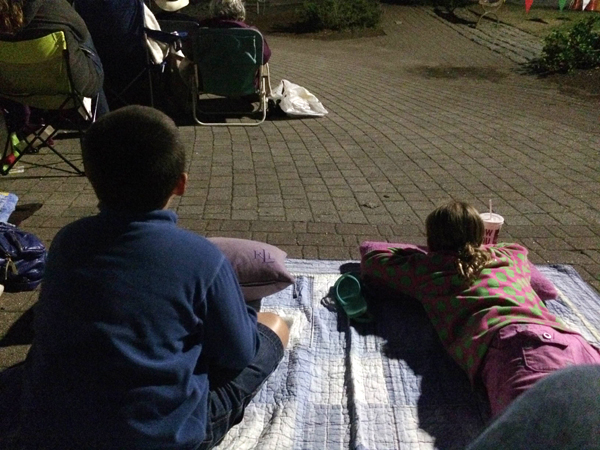 And I love that Will and Paige are still using that quilt to forge new memories. Like at the movie outside last night. We live in a community where there are community concerts, outdoor films, festivals and so much more to experience. And since we moved here, we've worked on saying yes to the opportunities whenever we can.
Or maybe it's just me that needed to learn to say yes. That's probably the truth.
Either way, our life is better for embracing what our community has to offer, and for trying new things. In the past year, we've finally managed to get back to a place of balance where life is fun and joyful, and we fill our days with exploring our world. We've read more, done more, experienced more. Life moves on, and so do we.
But in the spirit of holding onto things we loved in the past, I wanted to share an old recipe from the SCB archives that you might not have seen before. A version of this recipe first appear on Sarah's Cucina Bella nine years ago today. It had a tiny, blurry picture of cookies, and a short post. Over the years, it had become forgotten in the archives, a foot note to the progress I've made as a writer and recipe developer since then.
But the recipe was so good, and deserved more attention than it got back then. So when I was waiting for a friend one evening recently, I decided to whip up these cookies in hopes of giving this recipe new life here — like we've done with Will's old quilt.
An hour later, I remembered why I loved these cookies. With a high ratio of chocolate to raisin, and a chewy oatmeal texture, they're perfect for lunch boxes, parties or whenever you need a cookie fix. And the recipe makes a lot, so you can totally share.
Sharing is good.
Oatmeal Raisin Chocolate Chip Cookies
Yield:
about 4 dozen cookies
Ingredients
1 cup unsalted butter, , softened
1/2 cup brown sugar
1/2 cup granulated sugar
2 cup all purpose flour
2 cup rolled oats
2 tsp baking soda
1 tsp kosher salt
1/2 cup hot water
1 tsp vanilla
2 cup chocolate chips
1 cup raisins
Instructions
Preheat oven to 375 degrees.
In the bowl of a stand mixer fitted with the paddle attachment, add the butter and sugars and cream together until smooth.
In a large bowl, combine the flour, oats, baking soda and salt, stirring until well combined. With the stand mixer running on its lowest speed, add the flour mixture a little at a time until fully combined.
Add the hot water and vanilla to the stand mixer and mix until smooth. Add the chocolate chips and raisins and mix until just combined.
Use a medium cookie scoop, or two tablespoons, to drop the cookie dough in mounds on a parchment-lined baking sheet.
Bake for 8-10 minutes until golden.
Transfer cookies to a cooking rack and let cool slightly before enjoying.