Tender steamed fresh green beans are tossed with basil pesto and chopped walnuts in this easy salad recipe. This pairs well with La Terra Fina quiches. This post is sponsored by La Terra Fina, but all opinions are my own.
"Are you taking the kids to the beach tonight?" said the text, reminding me of something I'd said over the weekend. I'd been looking for a nearby beach, so we could go after work and day camp someday, wanting to ensure that the kids really experience the freedom of summer.
But was that the day for our beach excursion? I wasn't sure. The usual string of talk-myself-out-of-it thoughts began immediately — it would be too late, too busy, too something else. It's so easy to let life slip by in the process, when those thoughts are louder and bolder than good intentions.
A little while later, when I picked up my daughter Paige, who's seven, from camp, she came running and grasped me in the tightest hug. The out-of-character, though totally welcome, gesture answered the earlier question with a firm, definitive yes.
Yes, because no matter what other things I need to do, I will never get this day with the kids back. Yes, because Paige had a hard day, and I wanted it to end on a better note. Yes, because why not?
After two quick stops — one for beach toys and the other to change into bathing suits — we headed to the lake. It was beautiful and blue, with a small sort-of sandy area and plenty of lawn leading to the lake.
It ended up being too cool to do much swimming that night, but that didn't spoil the fun of our spontaneous trip.
And that's really the crux of our summer fun: being spontaneous. Summer, for us at least, comes with fewer obligations and to-dos, so while it's here, we have to take advantage.
Summer is also — for us — time for quick and easy dinners that include fresh, seasonal ingredients. Sometimes, in the interest of time, we pair these things with quick, quality convenience foods too, like the quiches from La Terra Fina.
La Terra Fina's easy-to-prepare quiche line is a favorite in our house. The tender, well-seasoned quiches are made with an egg white custard and a flaky, perfect crust. We enjoy them for breakfast, lunch and dinner — and pair them with different sides depending on the time of day. Though they can be microwaved, making them even faster to prepare, we prefer to bake them for maximum crust flakiness.
I also appreciate that La Terra Fina has a commitment to sustainability in their business. They've taken steps to recycle more, reduce their electricity usage in their plants and offices and to source and use recycled packaging. They also source ingredients "as locally as possible," according to their website.
With three delicious varieties — Spinach & Artichoke Florentine Quiche, Cheesy Cheddar & Broccoli Quiche and Classic Lorraine Quiche — these quiches are quick and easy to prepare and pair well with a salad for an easy lunch or dinner.
This Pesto Green Bean Salad with Walnuts is a great side dish with the quiches. Fresh green beans are steamed and then tossed with meaty walnuts and summery basil pesto. Season with additional salt, if necessary.
For this, I steam and chill the green beans ahead of time — sometimes even days in advance when I have extra time — and then I mix everything together just before we're ready to eat. But you can also make the whole salad ahead of time and chill until you are ready to serve. Any which way, it's a cool, satisfying dish.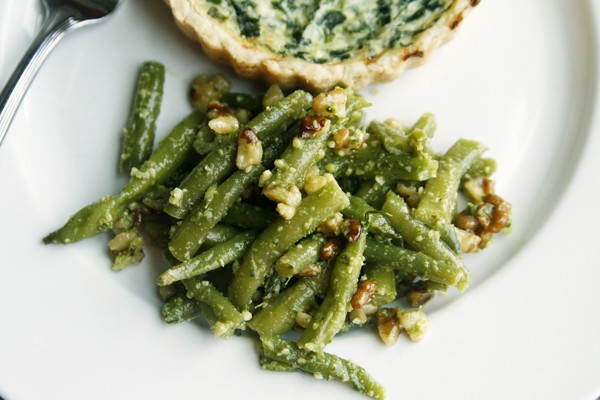 Pesto Green Bean Salad with Walnuts
Ingredients
2 cups fresh green beans, steamed and cut into 1-inch pieces
1/4 cup chopped walnuts
3 tbsp basil pesto
salt, to taste
Instructions
Chill the green beans prior to mixing.
In a medium mixing bowl, stir together the green beans, walnuts and pesto. Season with salt, as desired.
Enjoy immediately or chill until ready to serve.