A tender pork roast is topped with a bright, fragrant, sweet but zesty Garlicky Roasted Red Pepper Basil Sauce. This quick and easy sauce is also delicious with chicken.
This is a sponsored post written by me on behalf of Hormel Foods, LLC. for IZEA. All opinions are 100% mine.
There was a time when I couldn't imagine planning meals for the week. I liked the flexibility of planning on the fly, and craved the variety it afforded me. Of course, that led to us ordering takeout more often than I cared to admit — mostly because I would be cooking for work all day, and not actually want to cook dinner.
That was when I worked at home. When I began in an office again, I quickly realized how important being organized was to having easy weeknight dinners. By planning our meals for the week, and keeping track of them on a calendar in the kitchen, it ensures that I don't often get home wondering what's for dinner — or worse, give into the temptation of take out.
Perhaps best of all, planning meals means that great meals happen more often than not — because I am prepared.
And what takes a meal from good to great? Lots of things: a well-thought out menu, for instance, can pair a flavorful black bean dish with tacos for a satisfying dinner. And a really good sauce that elevates the flavors can do that too. The Garlicky Roasted Red Pepper Basil Sauce in this recipe does that for marinated ALWAYS TENDER® pork roasts from Hormel Foods, for sure.
This zesty, but slightly sweet, sauce is so easy to make and has so much bright flavor to lend to this pork roast. It's also delicious with chicken.
The pork roasts are good. But they are even better with this sauce drizzled on.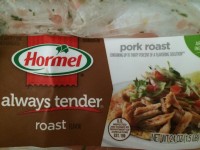 The convenient Hormel ALWAYS TENDER® pork roasts go from fridge to oven with so little fuss, which makes weeknight dinners a breeze. Although it needs to cook for about an hour, it's so hands off that you can use that hour to do so many other things — from reading with your kids to laundry to reading that novel you really want to finish.
As for the sauce? It takes just a few minutes to whirl together in the food processor and adds a burst of fresh flavor to the roast. It's also delicious drizzled over boiled or roasted potatoes, rice and more.
Looking for more delicious ideas? Check out the Hormel website for Easy Recipe Ideas, coupons, the Hormel Newsletter and more. You can also check out Hormel on Facebook and Pinterest.
Pork Roast with Garlicky Roasted Red Pepper Basil Sauce
Total Time:
1 hour
10 minutes
Ingredients
1 Hormel Always Tender Pork Roast
1 7- fl.oz. jar roasted red peppers, , drained
1 cup fresh basil
1/4 cup extra virgin olive oil
1 clove garlic, , peeled
salt and pepper, , to taste
Instructions
Prepare the pork roast according to package directions (about 1 hour).
In the bowl of a stand mixer, combine the roasted red peppers, basil, olive oil and garlic. Whirl until smooth. Taste and season with salt and pepper, as needed.
Slice the cooked pork roast. Serve with Garlicky Roasted Red Pepper Basil Sauce drizzled over.