What's for dinner? These Quick and Easy Chicken Pizza Wraps take minutes to whip up and are filled with big pizza flavor. Easy and tasty!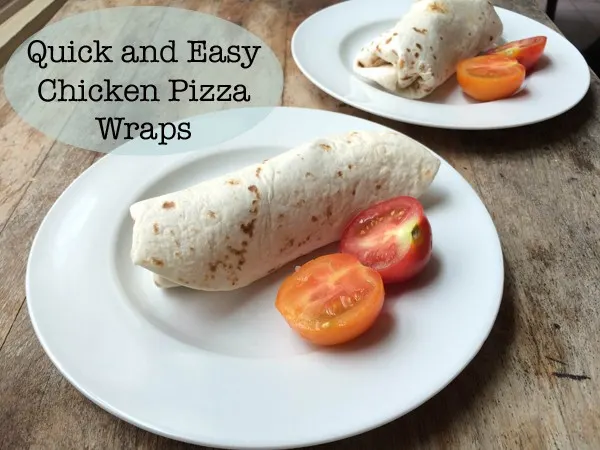 This is a sponsored conversation written by me on behalf of Tyson. The opinions and text are all mine.
When Will met his fifth grade teacher at a school open house recently, he remarked to me that he was happy to see so many familiar faces in school. He was glad to see so many kids were, as he put it, "coming back."
At first, I was confused. Isn't that to be expected? I mean, don't kids generally return to the same school as a class? Shouldn't the ones who leave be the surprise?
But then it struck me: Will hasn't had the typical school experience. He switched schools after first grade, and again after second and again after third. And although he ultimately attended the same school for kindergarten, first and third grades, the sheer act of changing schools has robbed him of the security of knowing you'll see the same faces in your class year after year.
It caught me by surprise, and made me glad he's attending the same school as last year.
Later that evening, we talked about it. About how usually kids don't change schools like he did. Usually, it's expected they will return year after year — your class is your class, and it's more surprising who comes and goes than who stays.
Earlier this year, when I was debating moving to a larger apartment, I chose to stay put to ensure that the kids stayed in the same schools this year — which would have been hard with our neighborhood schools here in Maine. Now, more than ever, I am so glad I did. Will needed it.
I am glad Will's excited to return to school, and see all those familiar faces again.
And when he starts school soon, I will be back to packing hearty lunches to fuel him through the day. But there are two things his lunches absolutely need to be: healthy and quick. So, I love having a cache of quick and easy lunch recipes — like this Chicken Pizza Wrap — to whip up in the morning.
They're also great for easy dinners.
Making these Chicken Pizza Wraps is a cinch. You start with precooked frozen chicken. Heat it up. Then layer some thinly sliced pepperoni, chicken, marinara and mozzarella cheese on a tortilla. Wrap it up like a burrito in foil and pack it in the lunch bag — in mere minutes, you've gone from "What's for lunch?" to something the kids love. Easy peasy.
And what makes this particularly easy peasy is the Tyson® Grilled and Ready® Chicken Breast Strips that I used to make it. Available at Walmart, these come fully cooked and are an almost effortless way to include lean protein in school lunches. The chicken breast strips are 97 percent fat free and made with all-white meat. Score.
When you are buying Tyson® Grilled and Ready® Chicken Breast Strips, you can also do some good for your children's school because they are part of the Tyson Project A+™ program. Clip and collect labels from participating Tyson Project A+™ products (it's more than just the strips!), and your school can submit them for $0.24 funding to be used however the school wants. What's more is that you can nominate a school through Walmart's Tyson Project A+™ page to receive $1000 in labels!
Quick and Easy Chicken Pizza Wraps for Two
Ingredients
2 soft taco size tortillas
2 tbsp marinara sauce
4-6 slices thinly sliced pepperoni
4 oz Tyson® Grilled and Ready® Chicken Breast Strips, , cooked according to package directions
1/4 cup mozzarella cheese
Instructions
Lay out the tortillas on a cutting board or work surface. Spread 1 tablespoon of marinara on the center of each. Top with pepperoni, chicken breast strips and mozzarella cheese, dividing it equally among the tortillas.
Fold in the ends of the tortillas and roll up, burrito-style. Wrap in foil and pack for school lunches -- or enjoy right away.
---
This is a sponsored conversation written by me on behalf of Tyson. The opinions and text are all mine.