The recently opened Portland Science Center in Portland, Maine, is hosting Body Worlds, an exhibit that shows actual bodies — and body parts — in fascinating ways to display how the human body works — and how our mistreatment of it impacts it.
When I first heard about the Body Worlds exhibit, I was fascinated that people donated their bodies to science and that they were used to create something that walks the line between science and art. There seemed to be something grotesque about it, something almost distasteful.
But the exhibit stuck with me.
On a recent trip to Portland, I had to see it for myself.
The exhibit features bodies, parts of bodies and supporting visuals that show both how the body functions and how we can hurt it with our treatment of it.
It's important to note that this isn't an exhibit to rush through. The Portland Science Center suggests planning at least an hour for your visit. We had to wrap it up after about 45 minutes to make an appointment, but those extra 15 minutes — or even longer — would have been awesome.
This is an exhibit for learning. For reflection. For thinking.
Seeing the bodies and body parts isn't macabre like I thought it might be, but rather fascinating — and at times beautiful. I found the exhibits pertaining to lungs particularly interesting. With my severe asthma, I'm fascinated by how lungs work — and sometimes don't work.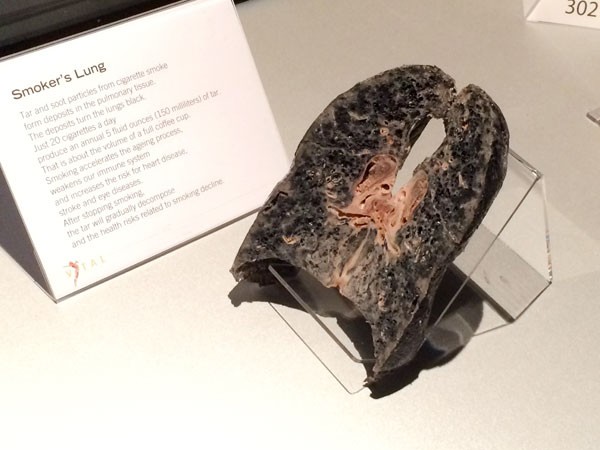 It's also eye opening. Smoker's lungs and the cross sections of a fit person juxtaposed with an obese person were shocking. It was hard to look at them without feeling … something. For me, the cross sections created a strong pull to rethink my eating, rethink my moving and rethink how I am treating my body.
The exhibit doesn't yet have an end date, according to the Portland Science Center's Facebook page. However, it's not expected to stick around long past the end of this month, so don't delay. It's worth seeing.
Tickets are $19.50 for adults, $17.50 for seniors, military personnel and students, $15.50 for kids ages 3-12 and Free for those under age 3. But look for ticket deals — they've recently had deals on Groupon. For more details, check out the Portland Science Center website.