Warm, thick Slow Cooker Tomato Lentil Soup is an easy recipe to make, and so comforting to come home to at the end of the day.
December was unseasonably warm here in Maine. Gloves were largely optional, hats were unnecessary and sometimes it was hard to decide which coat would keep you warm instead of too-hot. Though we've only been here less than two years, my kids and I expect the weather to be frigid in colder months and it just wasn't. Instead, it teetered between downright balmy and not-quite-cold-enough-to-warrant-full-winter-gear.
But that all has changed in the last week. As I am writing this, the temperature is -7 outside — cold enough to make your face hurt when you walk outside. No, really. And though I won't particularly appreciate the subzero temperatures when the kids and I walk to the bus stop this morning, I'm a little happy it's here now … these temperatures are perfect soup weather, after all.
And I love soup.
In fact, I love soup so much that I asked for a 4-quart slow cooker for Christmas this year, just for making soup. I already have a larger one — it's 7 quarts, I think — but that slow cooker is more suited to big batches of pulled pork and slow cooking whole chickens with veggies than it is to making nutritious, tasty soups.
My new, smaller slow cooker is less unwieldy to clean, and is absolutely perfect for making dinners like this Slow Cooker Tomato Lentil Soup recipe.
This thick soup is flavored with the Indian spice blend garam masala, as well as fresh ginger and lemongrass. You can find garam masala in some supermarkets, as well as Whole Foods and specialty stores. Likewise, fresh ginger and lemongrass are available in the same locations. I've recently been using the tubes of fresh ingredients, already grated, that are available in the produce section and love how easy they make recipes like this. However, grating ginger and lemongrass is still a relatively quick task. Use a fine microplane grater for it.
The trick with slow cooker recipes is to place the things that will take the longest to cook — in this case, it's the onions — closest to the walls of the slow cooker. That's why the layering of this recipe is so important. You layer the onions, lentils, tomatoes and garlic in the slow cooker. And then you mix together the vegetable stock, ginger, lemongrass, garam masala and salt before pouring it over. Don't stir everything together. Just set it to cook on low, and let it go. This will enable everything to cook as it's supposed to.
When it's done, this soup is thick. And you can enjoy it like that, serving it over rice or quinoa and with veggies. Or you can thin it out with the addition of more vegetable stock. Just be sure to taste as you go and adjust the seasonings as necessary.
I finished ours off with a sprinkling of pepitas (roasted, hulled pumpkin seeds) but that's totally optional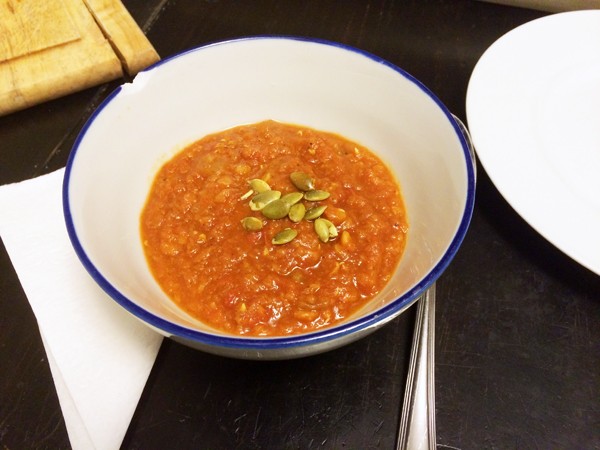 And one more thing: The vegetable stock you use in this will impact the flavor of the soup. It's important to remember that unlike chicken and beef stocks, which tend to have a more uniform flavor, vegetable stocks vary widely. I made this with Trader Joe's Low Sodium Vegetable Stock, which has a more carrot-intensive flavor. And it's good with that stock. However, I prefer it with Kitchen Basics Vegetable Stock, which is more onion-y. Be sure to choose a stock with a flavor you enjoy.
What's your favorite dish to enjoy when it's cold outside?
Print Recipe
Slow Cooker Tomato Lentil Soup
Ingredients
1

sweet onion

, diced

1

cup

red lentils

, rinsed and picked over

1 28-

oz

can crushed tomatoes

1

cloves

garlic

, minced

2

cups

vegetable stock

, plus addition for thinning, if desired

1

tbsp

grated ginger

1

tbsp

grated lemongrass

1

tbsp

garam masala

1

tsp

salt

, plus additional for seasoning, if desired
Instructions
Layer the onions, lentils, crushed tomatoes and garlic in the bowl of a slow cooker. I use a 4-quart slow cooker for this recipe.

In a mixing bowl, stir together the vegetable broth, ginger, lemongrass, garam masala and salt. Pour into the slow cooker (without stirring).

Set to low and cook for 6-8 hours. The onions should be cooked through once its done. Stir well. If desired, thin out the soup with the addition of more vegetable stock. Add it a little at a time, up to 2 cups, until desired consistency is reached. Taste and season with additional salt as needed.
Sarah Walker Caron is a cookbook author, freelance writer and founder of Sarah's Cucina Bella. Her latest cookbook is The Super Easy 5-Ingredient Cookbook, published by Rockridge Press, which focuses on quick, easy, from-scratch cooking for busy people. A single mother to two kids in middle school, Sarah loves nightly family dinners, juicy tomatoes plucked fresh from the vine and lazy days on the beach. She also adores reading and traveling.