Stuffed with potatoes and meat, this easy Hashbrowns and Chicken Sausage Omelet is a satisfying breakfast to enjoy before a busy day. Why not whip one up today?
Do you ever have breakfast for dinner? It's one of my kids' favorite treats in the evening, and it can be so fun. How about hashbrowns for dinner?
But let's be real: Breakfast for dinner needs to be hearty. It needs to have teeth to it, and fill the belly with warmth and comfort. And it needs to be easy, because when you're having breakfast for dinner, it's almost never a night when you have infinite amounts of time to spend creating dinner.
Elaborate brinner dishes? No way.
Typically, when I make breakfast for dinner, I rely on variety. Fruit, eggs, something starchy. More fruit. You get the idea.
Hashbrowns for dinner make sense. They are after all a starch that can help make the meal hearty. Hashbrowns are a satisfying, belly-filling part of a good meal. And when served inside omelets like this, they are downright satisfying.
For my Easy Hashbrowns and Chicken Sausage Omelet, hashbrowns, cheddar and chicken sausage combine in an eggy wrap and are topped with avocado and tomato. It's easy, pretty quick and it's so, so tasty.
A few notes on this:
There's a trick to making a good omelet: you can't get your pan too hot. It needs to be thoroughly heated, but a burner set to the higher end of medium-low will produce a fluffier, not browned omelet. Heat the pan too much, and the omelet will have a golden crust — it's not bad, but I much prefer it to be a nice yellow.
When you're cooking the omelet (in a greased pan, of course!), you don't want to move it too much. Let the eggs cook, swirling the still liquidy ones toward the end to help them find spots to cook in. And then top it.
For the hashbrowns in this, I used Hungry Jack's new Black Pepper and Onion hashbrowns, which come in a shelf-stable carton and rehydrate in about 12 minutes. Once drained and fried, these taste so much like fresh hashbrowns. And they're super easy too.
My kids are huge fans.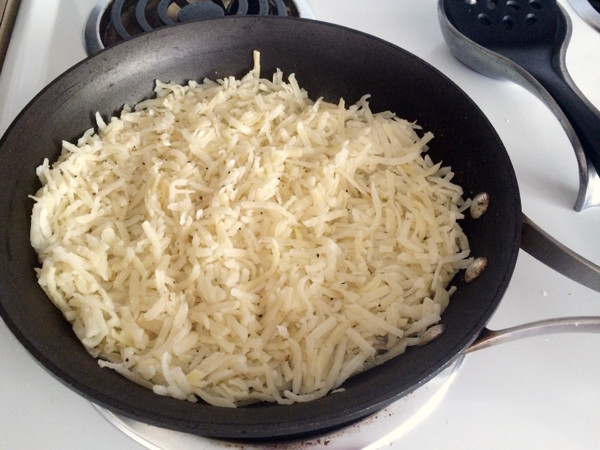 Each carton has six servings, but for the purposes of this recipe, I use one carton to fill six omelets. That little extra bit in the serving gives these a touch more potato goodness.
Hungry Jack is about to launch a Hashbrowns for Dinner Contest, which you can enter between May 9 and June 19. Vote for your favorite recipes and enter to win a grand prize trip to a NASCAR race. Want to learn more about the contest, and perhaps save a little on these hashbrowns? Visit the contest site here. Want to try these hashbrowns? Check the store locator for help.
Easy Hashbrowns and Chicken Sausage Omelet
Ingredients
1 carton Hungry Jack Black Pepper and Onion Hashbrowns
6 eggs
1/3 cup milk
salt and pepper, to taste
1/3 cup shredded cheddar cheese
6 apple maple chicken sausages, heated and sliced
2 avocados, pitted, peeled and sliced
1 medium tomato, diced
Instructions
Prepare the hashbrowns according to package directions. Once in the frying pan, begin preparing the eggs.
In a large mixing bowl, whisk together the eggs, milk, salt and pepper. Spread about 1/6 of the egg mixture in a greased, heated small skillet. Let cook until the eggs are just about set. Sprinkle with 1/6 of the cheddar cheese. Spread 1/6 of the prepared hashbrowns on one side and top with about 1 sliced sausage. Fold the omelet over on top of the potatoes and sausage and cook for about 1 minute more, until the cheese is melted. Slide onto a plate, let the pan cool slightly and repeat.
Serve topped with avocado slices and diced tomato.
I was selected for this opportunity as a member of Clever Girls and the content and opinions expressed here are all my own.