Hosting a gathering? This Spiked Strawberry Passion Limeade is a refreshing drink to sip on with friends this summer.
This post was sponsored on behalf of Alizé Passion. All opinions stated are my own.
"What this drink really needs is an umbrella," I said the other night, as I sipped on a freshly made Spiked Strawberry Passion Limeade. This bright, sweet, red drink has hints of passionfruit, lime and strawberries — the very things that comprise its smooth, chilled flavor. It tastes of summer, the tropics and vacation.
At first, it was a passing statement. Then I remembered that I actually have little cocktail umbrellas — ones that my dear friend Cate sent me awhile back because she thought I could put them to good use. I remember smiling when I received them, feeling that warm glow of knowing someone cares. So into the cabinet I went to retrieve the stash. Seconds later, I was raising the tiny umbrella and sticking it in my drink.
Ahhh, perfect.
Friendship is important, it's soul-filling, like a warm embrace, but also delicate and in need of nurturing. And I'm fortunate to have called Cate a friend for nearly a decade (or has it been a decade now?). Through life's ups and downs. The twists, turns, starts and stops. And over the years, we've done much together — started and ran websites together, encouraged each others freelance writing and recipe developing, traveled, celebrated holidays, taken day trips, explored … And I'm really thankful we're still friends even with our increased geographic separation. This past spring we met in Boston for a day of fun with our kids (her idea!), and it was so, so good.
Friends like Cate are so, so good to have.
This is a drink to share with friends, both old ones and new.
Made with strawberries, simple syrup, fresh lime juice and Alizé Red Passion, it's a sweet something to sip (adults only though!) while you catch up. Or dig into the day's news. Or look to the future. To chat about the new favorite movie, book, song, whatever …
Are you familiar with Alizé? It's a line of adult beverages that are made to just be served over ice. They infuse premium French vodka with lush flavors in the three varieties (Gold Passion blends the intensely flavored and aromatic juices of exotic passion fruit; Red Passion blends sweet, vivid passion fruit and crisp, tart cranberries; Bleu Passion is an infusion of delectable passion fruit, fresh cherries and a hint of ginger).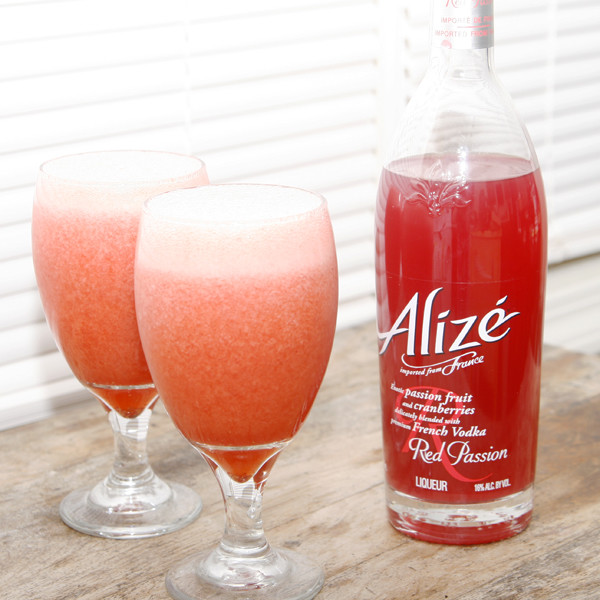 With bold flavors, these drinks are great on their own. But they're also delightful mixed into refreshing cocktails like this recipe for Spiked Strawberry Passion Limeade.
Making this is pretty easy. You start by heating sugar and water together to make a simple syrup. Then you blend that simple syrup with additional water, lime juice, Alizé Red Passion and frozen strawberries. Don't worry though — this isn't a frosty drink. The strawberries simply make the drink cold, counteracting the warm syrup.
Alizé is available nationally in the three flavors, which are sold in 750ml bottles that retail for $19.99. You can also check out the brand on Facebook (Alizé), Twitter (@AlizeInColor) and Instagram (@AlizeInColor).
And Cate, I am saving this recipe to share next time we adventure together.
Spiked Strawberry Passion Limeade
Ingredients
1/2 cup sugar
1/2 cup water, plus 1 cup, divided
1/2 cup freshly squeezed lime juice, (2-3 limes)
1/2 cup Alizé Red Passion
1 1/2 cup frozen strawberries
Instructions
First, make the simple syrup. In a small saucepan, heat the sugar with 1/2 cup water, stirring, until the sugar dissolves into the water -- about 3-5 minutes.
Pour the simple syrup into a blender. Add the additional cup of water, lime juice, Alizé Red Passion and strawberries. Blend on high until smooth.
Serve immediately.