Classic pepperoni pizza gets stepped up with a piquant garlic pepper crust and the addition of juicy tomatoes to the pie.
In the dim restaurant — mood lighting — we surveyed the menu. Interesting burgers, inventive entrees, the signature crispy duck fat fries. So many delicious options to select from, but we were there for a simpler reason. The pizza. The popular downtown restaurant makes a mean wood-fired pizza.
We'd just finished a haunted history walking tour of downtown where we heard about the first murder in the city, the mysterious woman in white who haunts the area where an old burial ground once stood and about a distraught nanny who took her own life after her charge fell to his.
All that walking, and we were hungry. Dinner time.
"Tell me what you want to eat," he said, gazing across the table at me.
"A pepperoni and tomato pizza," I replied. The menu is a foodie's dream, filled with signature pies like the Fig & Ricotta, Chorizo Manzana and the pie with duck, bacon and goat cheese, but all I really wanted was something simple and familiar. So what that figs are in season (and only have a short season, at that) or that duck is one of my very favorite things? Sometimes, the very best treat is the simplest option.
"Really?" he asked, skeptical that I really wanted something so basic.
But I did. It was what I'd pictured when I suggested pizza for dinner. Juicy fresh tomatoes, zesty pepperoni, the classic mozzarella cheese and sauce … and it's something we both enjoy, which makes it even better. Plus, that restaurant's wood-fired pizza reminds me of the pies from back where I grew up in New York, minus the grease.
So that's what we ordered, along with a Brussels sprouts appetizer he spotted at the last second. I can never say no to Brussels sprouts, especially not ones with sambal brown sugar glaze, roasted peanuts and pickled jalapeños. Mmm. They were good.
And the pizza? It was perfect.
See, if you haven't tried your old favorite pepperoni pizza with tomatoes yet, you're missing out. It's an update on a classic, a comfort food upgraded. But really, in the simplest of terms, it's delicious. We order it a lot — from the New York style pizza place on our way back from Acadia National Park to the corner pizza joint that accepts only cash. It's become one of those things — a go-to food in the sea of options.
As the food editor of a newspaper, a food writer and a cookbook author, you might think that I am attracted only to the unusual, different and high brow foods on a menu. But while I love a good crisp pork belly and swoon over a perfectly prepared lobster dish (wait till I tell you about the one I had in Boston at a tasting I went to recently!), I also have simple favorites. A good egg salad, a perfect BLT and Slurpies, for instance. Tomato pepperoni pizza falls into that category too.
And that's a pie that's also great made at home on the weekend when you have time to spare.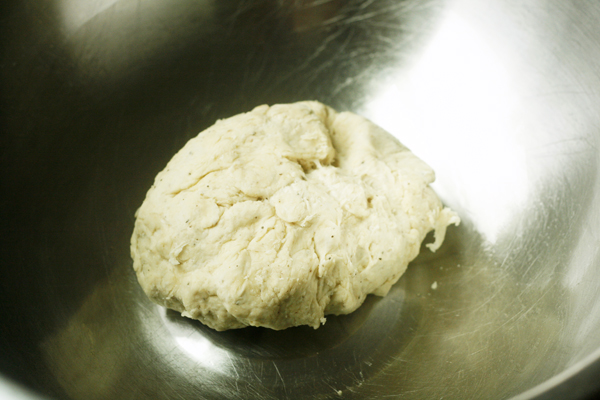 Okay, okay, this pie might not be that basic. I mean it is — it's tomato pepperoni pizza at it's heart — but it has a few upgrades, starting with the pizza dough.
You're going to need to give yourself a little time to make this dough. It has to rise for at least an hour before you can use it.
My homemade pizza dough is laced with black pepper and garlic flavor for a piquant crust, with a delicious aroma and bite to it. When baked, it becomes crisp on the outside, and just the right amount of doughiness on the inside, it's a nice complement to the sweet notes of the marinara sauce and tomatoes, and the bite of the pepperoni. (Hint: want a plain crust? Use my favorite recipe for Thin Crust Pizza Dough instead.)
Once you spread out the dough into a round, it's pricked all over with a fork and then brushed with olive oil. That will ensure the thin crust remains a thin crust.
Then it's topped with tomatoes and pepperoni. I love a nice, fresh, local tomato for this. Pictured is a chopped green zebra tomato — one of my favorites — but any variety will work. As for the pepperoni, I prefer it from the deli and thinly sliced. But, again, use whatever variety you like best. You'll notice the pepperoni is only on half the pictured pizza … I recommend using it all over, but in my house my daughter isn't a fan … so half pepperoni works too.
Bake it on a preheated pizza stone, which will give the pizza crust the perfect texture. Mine is marked up with dark spots from years of baking on it — and that's a good thing. Those marks mean it's broken in.
And when it's done, and you have that first slice on your plate, appreciate the little things. Like how the consideration of someone who just wants you to be happy can fill you up. Like how laughter over the table can feel like a breath of relief. Like how a simple pizza can be just the right thing at the right time.
And then enjoy.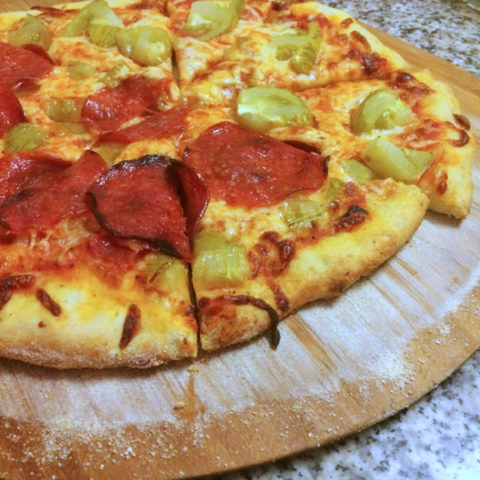 Tomato Pepperoni Pizza with Garlic Pepper Crust
Ingredients
Pizza Dough
2/3 cup warm water
1 tsp sugar
1 tsp dry active yeast
2 cups all purpose flour
1 tsp freshly ground black pepper
1 tsp garlic powder
1 tsp kosher salt
1 tbsp olive oil
Pizza
flour and cornmeal
1 tsp olive oil
1 cup marinara
1 1/2 cups shredded mozzarella cheese
1 medium tomato, , chopped
6-12 thin deli slices pepperoni, (6 for a half pizza, 12 for the full pizza)
Instructions
In a medium bowl, add the water. Stir in the sugar to dissolve. Sprinkle with yeast and let sit for 5-8 minutes, until foamy.
While the yeast is blooming, sift together the flour, pepper, garlic powder and salt. Set aside.
Stir the olive oil into the yeast mixture. Add the flour mixture and stir well. With floured hands, knead the dough until it forms a cohesive ball. Transfer to a large, oiled bowl and cover with a kitchen towel (loosely, it shouldn't touch the dough at all). Let rise for at least an hour in a warm, dry place.
Once the dough is risen, preheat the oven to 450 degrees fahrenheit with a pizza stone inside for 20-25 minutes. Heating the stone is necessary to a good, crisp crust.
Meanwhile, sprinkle flour and cornmeal liberally on a pizza peel. With floured hands, stretch the dough into a circle -- about 14-inches in diameter (16-inches, if you can manage it). Place on the prepared pizza peel. If necessary, spread the dough further with your fingers.
Prick the dough all over with a fork. Then, brush the dough with olive oil. You only need a little to oil it all, taking special care at the edges.
Spread the marinara sauce all over the pizza, leaving about 1/2-inch at the edges. Sprinkle with mozzarella cheese. Distribute the tomato evenly on top, and finish with as much pepperoni as you wish.
Slide the pizza onto the hot pizza stone and cook for 12-14 minutes, until the cheese is melted and the crust is golden brown. Remove from the oven with a clean pizza peel, and use a pizza wheel to cut it into wedges. Let sit for 5-10 minutes before enjoying.