This post was created in partnership with Ninja Coffee Bar® System. I received complimentary products and compensation to facilitate my review, but all opinions within are my own.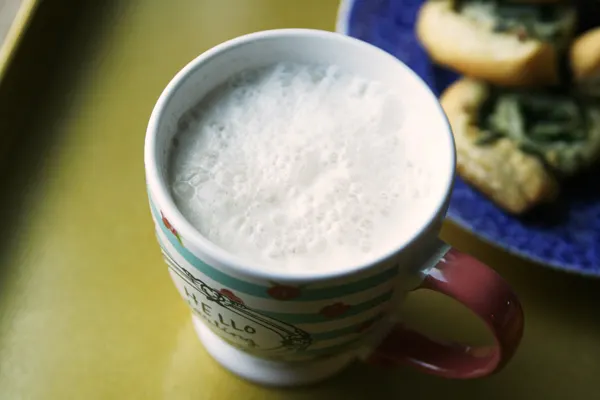 For years, I've been a devoted pod coffee maker user.
I mean, sure, there was a foray into coffee maker-land (a land where I never actually made coffee myself) and a dabble in French press-ville, but my preference has long been for the ease of pod coffee makers. The quality of the coffee was good, and with refillable pods, it was easy to control which beans were used and how much.
If I wanted something fancier, I'd just go out for coffee.
Honestly, I didn't think I'd ever change my mind on this. Not after this long.
Then an opportunity arose to try the Ninja Coffee Bar® System. This system brews a variety of sizes — a regular cup, an xl cup, a travel mug and a whole pot. Plus, it's designed to brew over ice, if you choose. And the model I was offered came with a built-in frother — bonus!
Naturally, I said yes. But honestly, I wasn't sure I would ever really give up my pod-based maker.
Then I brewed my first cup with the Ninja Coffee Bar® System. Using one of the special recipes that came with it — for a Toffee Latte — I brewed, mixed and frothed, and then tried it. This fancy coffee was something I never imagined making — or wanting to make again and again.
But when I tried it …
Wow.
This is the kind of coffee that makes you take pause and say, "That's a really good cup of coffee." And yes, real people really do that in real life when it's true. Swear.
This coffee maker makes it so easy to brew a great cup of coffee — whether you want something classic or something fancier like a latte, cappuccino or flat white. Once you read the directions (yes, really, you should), it's easy to use. And making fancy coffee? Who knew it could be this simple?
My Ninja Coffee Bar® System arrived just before Thanksgiving, and just before my family arrived for a weekend visit. It was so handy to have a way to brew a pot of coffee all at once — and a really good one at that. I love that this isn't just a single-serve coffee machine or a fancy coffee machine or coffee maker that brews big quantities to serve a crowd. It's all of these things.
For a crowd, set out a selection of mugs (I gave up on matched sets, and now collect ones in all sizes and designs — it's so fun to choose a different mug every morning), a selection of sweeteners and creamers and spoons, and let everyone prepare their own coffee.
A little more about the system … It includes a built-in hot and cold frother, which means you can froth milk, heavy cream and even creamer whether it's hot or cold. I've quickly come to realize that I prefer it frothed when it's hot because it seems to be frothier that way. And even when I am just brewing a regular ol' cup of coffee, frothing my favorite creamer adds some extra oomph to the brew.
The Ninja Coffee Bar® System has six different brew sizes and five brew types – including the Ninja-exclusive Cafe Forte brew, intended to showcase the natural subtle flavors of coffees. There are so many ways you can customize your coffee with this machine — it's awesome! I most often brew with the Rich Coffee setting, and on the regular cup size.
More Thoughts on the Ninja Coffee Bar® System
After using it daily for the last three weeks, here are a few things you should know:
Before using it, you have to run two cleaning cycles. This will take a little over two hours. So don't expect to pull it out of the box and start using it.
The XL cup setting brews a lot of coffee — too much for most standard mugs. If you're making a latte with this setting, you will need a giant mug. But you can also make a good latte with the regular cup size.
Brewing the coffee over the ingredients that will flavor and/or sweeten your coffee will enhance the flavor experience. Just don't forget to stir after brewing before pouring the frothed milk or cream on.
Rinse the frother immediately after using it, and it's a breeze to clean.
The coffee basket is a reusable filter, but it needs more than a dump and a rinse after each use — it needs a full-on wash. The coffee tends to cling to it.
This machine doesn't have an auto-off function, so do remember to turn it off after use.
Be sure to also check out the Ninja Coffee Bar® System on Twitter, Facebook, Pinterest and Instagram
Caramel Latte in the Ninja Coffee Bar® System
This recipe is for the Ninja Coffee Bar® System. I received complimentary products and compensation to facilitate my review, but all opinions within are my own.
Ingredients
2 tbsp caramel syrup, (for coffee)
pinch sea salt
3 scoops coffee grounds
1/4 cup heavy cream
Instructions
Add the caramel syrup and salt to an oversized coffee cup. Set on the cup holder of the Ninja Coffee Bar® System.
Set the dial to XL Cup, and add the coffee to the basket. Press the "Rich Brew" button to brew.
While the coffee is brewing, microwave the heavy cream for 30 seconds. Then, place the frother on the coffee machine just before the surface of the heavy cream. Press the button and froth for 30-45 seconds, until frothy and doubled in size.
Once it's done brewing, stir the coffee. Pour the frothed heavy cream on top. Enjoy.