Tender, airy banana cinnamon cupcakes are topped with a creamy vanilla buttercream frosting in this easy recipe for mini cupcakes.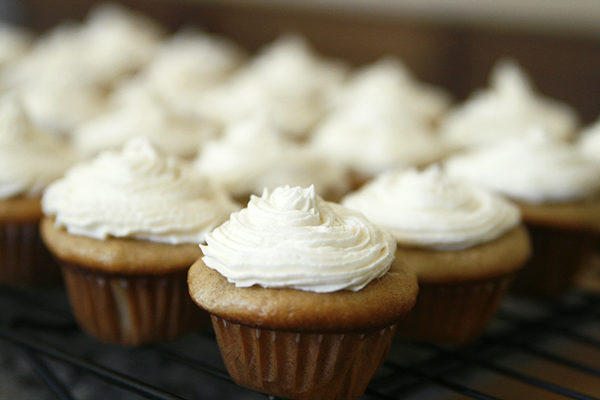 Summer vacation was packed this year. We spent time at the beach, hiked, adventured, tried new things and so much more. And yet, there's so much I wish we'd done. Our only picnics coincided with the beach time and really, we didn't hike nearly as much as I wanted to. There were a few day trips I hoped to take but didn't too.
It was still good. All good.
And now, it's time to bid farewell to the freeform days of summer vacation. It's time.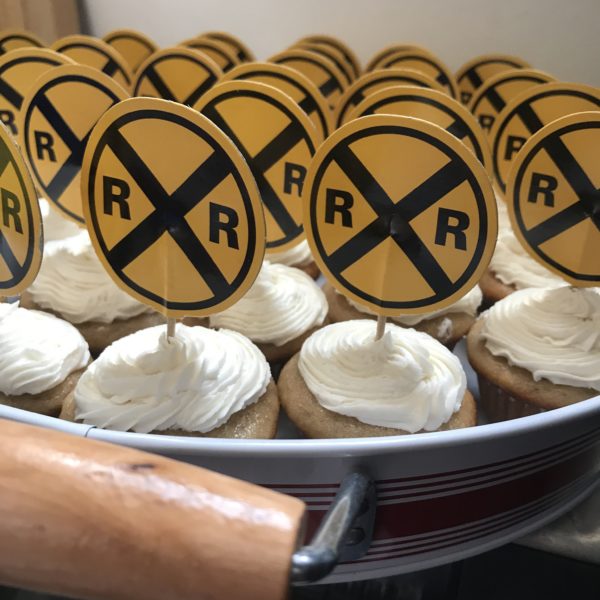 Honestly, things have been getting a little bananas here lately. My work life has been nonstop with my responsibilities at the newspaper plus the added responsibility of running a monthly magazine that my company owns. I've also just started teaching at two universities as well. And that's just me — my two busy kids have busy schedules of their own. Dance classes, soccer practice, school clubs and hopefully music lessons soon too.
So, while I hate letting summer vacation go, the structure of school is a welcome thing for our lives.
Speaking of bananas, let's chat about this recipe for Banana Cinnamon Cupcakes with Creamy Vanilla Frosting.
The local children's bookstore had a train-related event recently, and I agreed to whip up some cupcakes to serve guest. You might recall that I've helped feed hungry book lovers before — including on Independent Bookstore Day. You might say that I have a soft spot for young readers … and the bookstore owner.
I went with a variation on a favorite — one bowl cupcakes. (You'll need a second bowl for the frosting though.) This is a super easy recipe that takes minutes to whip together by hand in a single bowl.
These little mini banana cinnamon cupcakes are moist, light, airy things with a lovely flavor. It's a great way to use up that last banana on the counter. Once baked and cooled, they are frosted with a creamy vanilla buttercream. Another super easy recipe, the frosting starts with butter that's whipped until it gets airy. Then sugar, marshmallow fluff and vanilla extract are added to it. A little more whipping, and you have a lovely, simple frosting perfect for these confections.
It's just the right combination of sweet frosting and fluffy cupcake.
Railroad crossing cupcake toppers? Totally optional.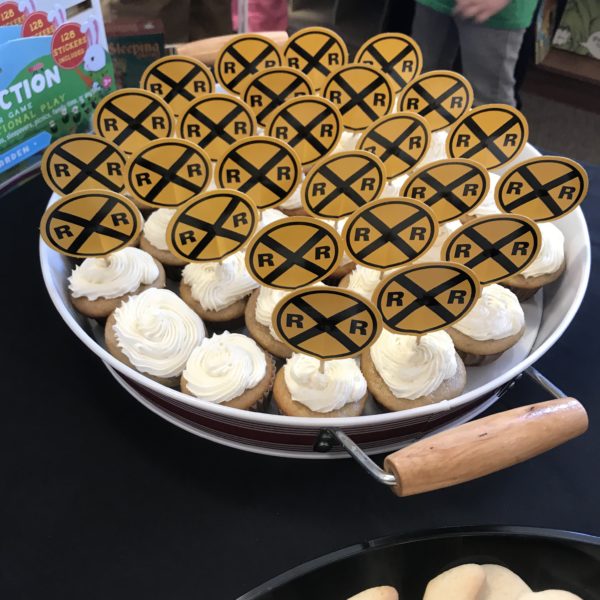 Banana Cinnamon Cupcakes with Creamy Vanilla Frosting
Ingredients
1 cup all-purpose flour
½ cup sugar
2 tsp baking powder
½ tsp kosher salt
1/2 tsp cinnamon
1 large egg
½ cup milk
¼ cup canola oil
1 tsp vanilla extract
1 ripe banana, , mashed
Creamy Vanilla Frosting
½ cup unsalted butter, , softened
1½ cups confectioners sugar
2 tbsp marshmallow fluff
1 tsp vanilla extract
Instructions
Preheat the oven to 375 degrees. Line 24 mini muffin cups with liners and set aside.
In a medium mixing bowl, sift together the flour, sugar, baking powder, salt and cinnamon. Add the egg, milk, oil and vanilla extract to the bowl. Whisk vigorously for two minutes, until smooth. Stir in the mashed banana.
Divide the batter evenly among the cupcake liners. Bake for 15-17 minutes, until a cake tester inserted into the center of a cupcake comes out clean.
Transfer to a wire rack and cool completely. Once the cupcakes are cooled, prepare the frosting.
First, place the butter in the bowl of a stand mixer. Beat, with the whisk attachment, until light and fluffy. Then add the confectioners sugar, marshmallow fluff and vanilla extract. Beat again to incorporate.
Enjoy! Leftovers can be stored in an airtight container for up to four days.