This post was sponsored by Ling Ling, all opinions expressed in my post are my own.
In this easy recipe for Honey Hoisin Broiled Salmon, salmon filets are glazed with a simple but robust honey hoisin glaze and broiled to tender perfection.
The first boxes of decorations have begun to emerge from storage. Holiday music is making its way to the browse screen of the music app. And … is that a display of fruitcake ingredients?!? That can mean only one thing: the holidays are here.
And there's so much to do too …
The floors need to be swept. The presents require wrapping. There's Christmas lists to check off, boxes to ship and cards to both write and mail. And there are still toilets to clean, showers to scrub and rubbish to take out.
And then there's dinner.
Dinner never stops, even as our lives fill with busyness. Fortunately, dinner needn't be a hassle or a stress. Easy, delicious recipes like Honey Hoisin Broiled Salmon served with rich, robust Ling Ling Yakiniku Beef Fried Rice make it a cinch.
This easy broiled salmon recipe can be made in just 15 minutes. Fresh salmon filets are brushed with oil and seasoned with salt and pepper and then broiled to just about tender. Then they are glazed with a simple but robust honey hoisin glaze and broiled a bit more.
The result is a rich, perfectly cooked filet that's delightful.
Frequent readers will remember that I recently partnered with Ling Ling for a series of blog posts about their frozen entrees. This is my last post for Ling Ling, and I am so excited to share it. I fell in love with Ling Ling Bibimbap Beef Fried Rice over the summer — it's an easy way to enjoy a version of the dish I have loved for eons.
Previously, I created a Garlic Ginger Broiled Shrimp recipe and a Yakitori Chicken Breakfast Bowl recipe, both of which utilize Ling Ling fried rice.
So good.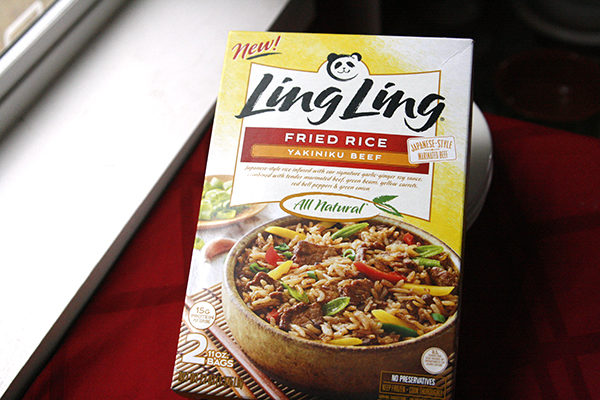 Have you tried the new Ling Ling Fried Rice line? There are five unique Asian inspired dishes from Japan, China, Korea and Thailand and all are easy to heat and enjoy. In addition to the Yakiniku Beef, there's Bibimbap Beef, Yakitori Chicken, Thai-Style Chicken and Chinese-Style Vegetable. There's also a line of noodle dishes and dumplings, based on Asian-inspired dishes from the region. For noodles, there's Chicken Yakisoba and Drunken Noodles with Chicken and the dumpling varieties are Chicken Dumplings in Chili Sauce and Pork Dumplings in Chili Sauce.
Also — if you want to dig into this bowl yourself, you can find Ling Ling products at many Walmart stores in the frozen foods aisles. Also, to sweeten the deal, there's a $2 off coupon for a box of Ling Ling Fried Rice, Noodles or Dumplings at any retailer where the products are sold available now.
Honey Hoisin Broiled Salmon
Fresh salmon is boiled with a rich glaze in this recipe for Honey Hoisin Broiled Salmon.
Ingredients
1 lb salmon, cut into 4 filets
olive oil
2 tbsp hoisin
2 tsp soy sauce
2 tsp honey
salt and pepper, to taste
Instructions
Arrange the salmon on a nonstick baking sheet. Brush with a little olive oil and sprinkle with salt and pepper.
Heat the broiler (on its high setting, if you have that option). Slide the salmon into the oven and broil for 5 minutes.
Meanwhile, in a small bowl, whisk together the hoison, soy sauce and honey. Once the salmon comes out the oven, brush on the tops of the pieces.
Return the salmon to the oven and broil for an additional 1-3 minutes, until cooked through. Enjoy!