This shop has been compensated by Collective Bias, Inc. and its advertiser. All opinions are mine alone. #BigelowTea #TeaProudly #CollectiveBias
On cold days, tea can be so soothing and comforting. It's like a warm hug from the inside out. Here's how to brew a perfect cup of tea.
We wanted a tea set. It's tempting to say we needed one, but really it doesn't fit the criteria of need. So we wanted one, my kids and I. My daughter's early childhood set, a pretty floral metal one in miniature, had rusted in all the wrong places (well, really … are there any right places for rust?). And my personal-sized teapot was nowhere to be found.
So, I decided to get a real, full-sized set. Not the sterling silver heirloom kind passed down from generation to generation. Something a little more modern and definitely pretty.
We ended up buying a vibrant flower-covered teapot, creamer, sugar container and tray. It was feminine and in soothing colors. We selected a few teacups too. And then, the next thing I knew we'd bought two more teapots that we also liked.
As it turns out, we really like teapots.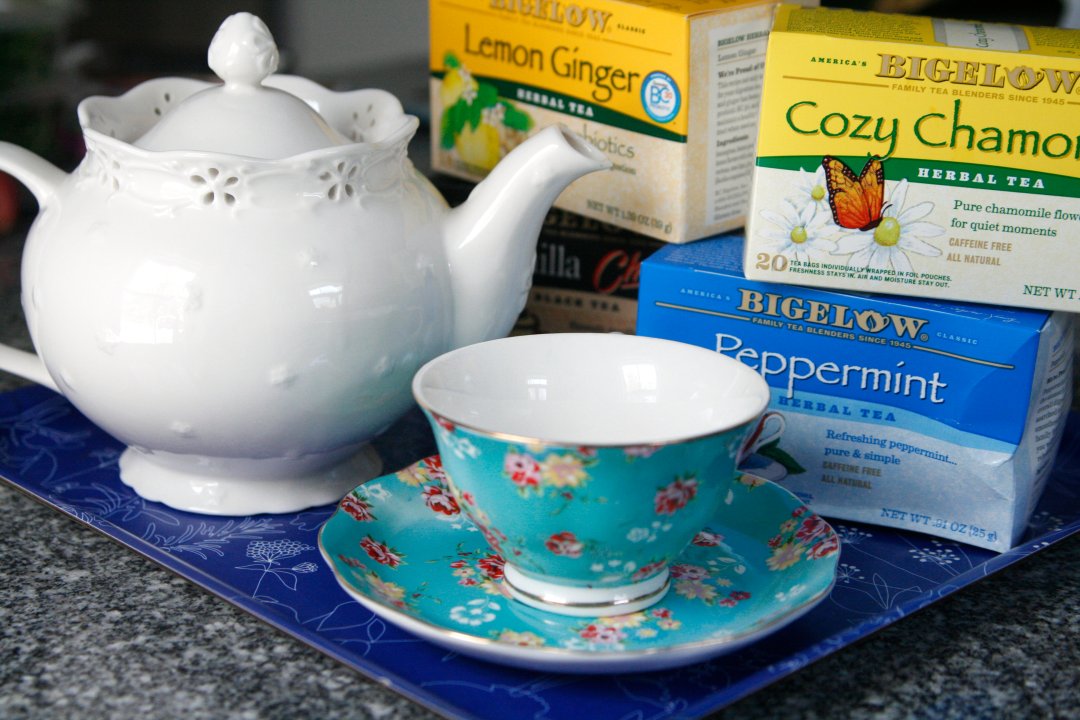 We also really like tea.
Tea has become, for us, a blissful habit that's both nourishing and comforting. Some days, my kids will brew a whole pot for us to share. Others, we'll all make individual cups of our favorite flavors.
And really, at this time of year, it's never a bad time for a cup of tea. Cold day? A cup of tea will warm you up. Feeling icky? A cup of tea will soothe you. You get the idea. When Bigelow Tea asked me to share how tea fits into our life, I was happy to oblige.
The short answer? It fits everywhere.
Did you know that January is Hot Tea Month? Bigelow, which we bought at Walmart, is celebrating and it's the perfect time to get in the habit of sipping more tea. Why not bring your friends and family together and enjoy a little tea time?
How to Brew a Perfect Cup of Tea
Pick your flavor
There are so many wonderful flavors of tea to enjoy — it's just a matter of finding the one you adore. Peppermint tea has been my go-to flavor for eons and Bigelow Tea makes a great peppermint tea. It's so refreshing. And when my throat needs soothing, Bigelow Tea's Lemon Ginger flavor is absolutely perfect. Meanwhile, my son loves Bigelow Tea Green Tea. My daughter is still auditioning flavors for a starring role as her favorite.
Choose the right temperature
Did you know that tea isn't all supposed to be brewed with boiling water? While herbal teas and black tea, generally, brew well with boiling water, other teas like green tea and white tea need lower temperatures for best results. Green tea, for instance, should be brewed with water that's about 150 to 180 degrees Fahrenheit.
To make a pot of tea or not?
We often will make individual cups of tea. That let's us all enjoy our favorites. But sometimes it's nice to make a pot of tea to share. Not only does it feel extra special to pour the tea from a nice pot, but it's a great way to enjoy tea time together.
Do you really need a teacup?
Oh, the saucer. And the fancy cup! It's all so lovely. But is it necessary? Well, no. A mug or travel cup will work just fine. But a teacup does feel a bit fancier so …
Dress it up
Now, do you need to add anything to the tea? Not necessarily. Actually, a just-brewed cup of tea can be delightful on its own. But if you want it dressed up, honey is my favorite way to sweeten tea. And I suppose you could add a dash of milk or cream — but I don't encourage it.
And then … enjoy.
I most love enjoying tea when it's part of relaxing. A good book, a cup of tea, ahhhh. Enough cannot be said about how relaxing benefits busy lives.
GIVEAWAY!
#TeaProudly #Sweepstakes (1/16 to 2/28)
Psst! Want to know more about Bigelow Tea? Connect with them on Facebook, Twitter and Instagram!
What are your best tips for how to brew a perfect cup of tea?