Creamy, baked custard has notes of chocolate and cinnamon in this recipe for Mexican Chocolate Pots de Creme. These are a delightful make-ahead dessert.
The science of food is fascinating. Eggs, sugar, heavy cream and chocolate together, for instance, can make the airiest chocolate mousse, if prepared in a certain way (whipped egg whites and heavy cream are mixed into the custard). But prepared another way in which the ingredients bake together and you get a smooth, thick custard, as in this recipe.
Pots de Creme are a lovely make-ahead dessert (yes, really, they have to be made ahead of time) that look so elegant when served. And the texture — thick, smooth and custardy — is lovely. Always top them with whipped cream. It's practically a requirement.
In this version, in honor of the Cinco de Mayo theme of this month's Progressive Eats blogging event, which is a virtual dinner party created by my friend Barb Kiebel of Creative Culinary. I decided to make Pots de Creme with Mexican chocolate and a touch of semisweet chocolate.
Mexican chocolate is typically used to make Mexican hot chocolate. Mexican chocolate has a different texture than other chocolates. It's grainy — a mixture of cocoa nibs, granulated sugar and spices like cinnamon. Use the variety that comes in disc form. I found Mexican chocolate in the Mexican foods section of the grocery store, but it could also be near the hot cocoas.
How to make Mexican chocolate pots de creme
To make Mexican Chocolate Pots de Creme, you need to allocate enough time. It will take about 25 to 30 minutes to make, and then it needs to chill for at least three hours.
The chocolate is chopped up so it will blend with the hot milk and heavy cream well.
Heat the milk and heavy cream together on the stove and then add the chocolate. Return it to the burner and whisk until the mixture is smooth and the color is even.
Meanwhile, whisk together the eggs and sugar until well combined. Pots de creme typically call for a lot more sugar than this, but since the Mexican chocolate is already sweetened, this recipe calls for only a tablespoon.
The hot chocolate mixture is whisked into the egg mixture a little at a time. This tempers the egg yolks, cooking them without curdling them.
Strain the mixture to remove any unblended parts (and as much of the foam as you can).
You'll need ramekins for this recipe. They come in several sizes. Use 3/4 cup ones (which are the larger white ones in this image).
The chocolate mixture is divided evenly among the ramekins. Then they are added to a baking pan and covered with foil. Water fills the pan until its halfway up the ramekins. Then it's baked for about an hour, during which time the custard sets.
Once done, the custards need to chill in the refrigerator for at least three hours.
Then serve. I love these topped with whipped cream — fresh or good canned whipped cream (I am partial to the Cabot brand).
Who would you make these Mexican Chocolate Pots de Creme for?
About the Recipe
Although I have made chocolate mousse and chocolate pudding before, I've never made a baked custard like this. So I turned to a trusted source for a recipe to help guide my creation.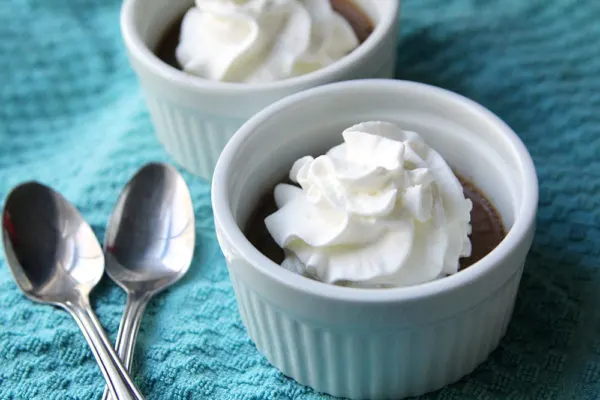 Using an Epicurious recipe for Chocolate Pots de Creme as a guide, I worked on how to use the Mexican chocolate tablets instead of semisweet or bittersweet chocolate.
The process had to change a bit — I found that the Mexican chocolate required constant heat to melt, for instance — as did the ingredients. The recipe needs about 3.3 ounces of chocolate, but the tablets are only 3.1 ounces, so I added some semisweet chocolate chips to make up the difference.
Also, because the chocolate tablets are sweetened, I reduced the sugar in the recipe by a lot. Otherwise, the sweetness would be overwhelming (and you couldn't have whipped cream too!).
Another big change to the recipe I had to make was how it cooks. With regular chocolate, the hot milk and heavy cream mixture is enough to melt the chocolate but with the Mexican chocolate, it didn't work like that. Applying heat while whisking the chocolate in was necessary and worked perfectly.
I loved the way this dessert came out. The texture is similar to the custard of a pumpkin pie, and the flavor is too (because of the spices). Delightful!
I can't wait to serve this at an in-person dinner party.
Mexican Chocolate Pots de Creme
Cook Time:
1 hour
20 minutes
Total Time:
4 hours
30 minutes
Creamy, smooth, custard-like Mexican Chocolate Pots de Creme are a delightful make-ahead dessert for serving at dinner parties.
Ingredients
1 1/3 cup heavy cream
1/3 cup milk
3.1 oz Mexican chocolate (1 disc)
0.2 oz semisweet chocolate chips
4 large egg yolks
1 tbsp granulated sugar
Whipped cream (optional)
Instructions
Preheat the oven to 325 degrees Fahrenheit.
In a small saucepan set over medium heat, bring the heavy cream and milk to a simmer. Remove from the burner and add the chocolate. Whisk together. Return the pan to the stove, set over medium heat. Cook, whisking constantly, until the chocolate is completely blended.
In a large bowl, whisk together the eggs and sugar. Add the chocolate mixture a little at a time, whisking constantly, until completely blended. Go very slowly to avoid curdling the eggs. Strain the chocolate mixture into a bowl.
Divide the chocolate mixture evenly among four 3/4-cup ramekins. Set in a large baking pan. Cover each of the ramekins with foil and then add water to fill the pan about halfway up the ramekins.
Bake the pots de creme in the oven for abut 55 minutes, until the centers giggle slightly when moved but at generally set.
Remove from the oven, carefully remove the foil and then remove the ramekins from the pan.
Chill for at least 3 hours before serving. Whipped cream is encouraged.
---
Welcome to Progressive Eats, our virtual version of a Progressive Dinner Party. This month's theme is a Cinco de Mayo Fiesta, and our host is Jane who blogs at The Heritage Cook
If you're unfamiliar with the concept, a progressive dinner involves going from house to house, enjoying a different course at each location. With Progressive Eats it's a virtual party. A theme is chosen each month, members share recipes suitable for a delicious meal or party, and you can hop from blog to blog to check them out. Come along and see all of the delicious fiesta inspired dishes!
Cinco de Mayo Fiesta
Beverages
Appetizers
Bread
Main Courses
Side Dish
Desserts