This shop has been compensated by Collective Bias, Inc. and its advertiser. All opinions are mine alone. #MahatmaFastRice #MahatmaRice #MahatmaRiceUnites #CollectiveBias
Marinated steak, zesty chimichurri sauce and flavorful rice combine in this easy dinner. But the secret ingredient is the super easy, fast, Mahatma® Ready to Serve Rice.
Over the last few years, food trucks have grown in number and popularity in Maine. The city has given dedicated space for food trucks to operate and the community has — showing up, ordering, enjoying. Many of the food trucks here in Bangor operate in our Waterfront park, so it's a pretty place to eat outdoors with something you grabbed from one of the trucks.
Last summer, those trucks included a Brazillian food truck that served up steak, chicken and other skewers with flavorful rice, salad and chimichurri sauce. It was amazing. But they moved their food truck to Portland, Maine, so days of enjoying the fresh flavors of Brazillian food on the waterfront are over.
Fortunately, I've been working on a recipe so that I can enjoy this food truck delight at home.
Hover over the image above to start shopping for Mahatma® Ready to Serve Rice at Walmart!
Making Brazilian Marinated Steak Skewers with Chimichurri and Rice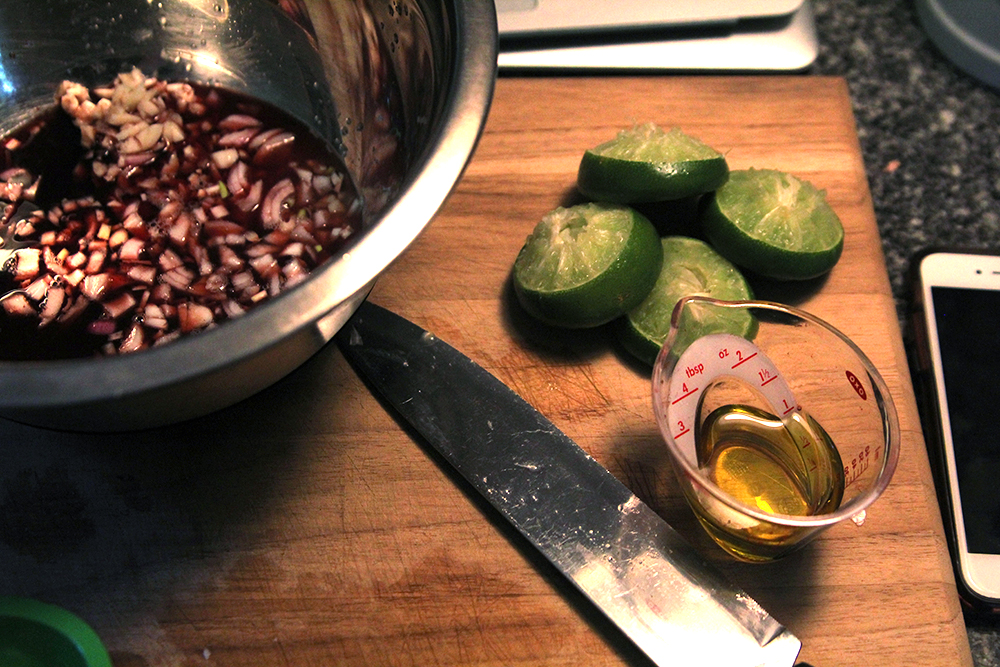 This starts with marinating steak. The marinade tosses together in just a few minutes — lime juice, red wine, oil, onion, garlic — and the steak sits in there for at least 30 minutes or as long as all day. However much you have time for will be perfect.
I buy directly from a local farmer who has a kebab cut but otherwise a nice sirloin cut into 3/4-inch pieces will work perfectly.
Once it's done marinating, you thread the meat onto skewers and begin to cook it. I usually do three pieces per skewer.
While the steak is cooking, take two minutes to make the chimichurri sauce. Seriously, it's that easy because the food processor does the work for you. You just need to measure the ingredients.
See? I didn't even chop the herbs. Whirl the chimichurri ingredients around together until the parsley and garlic pieces are uniformly small.
Now, the sauce is ready. The steak should be close to ready too. What about the rice?
Ahh, this is where an ace in the pocket comes in handy. Mahatma® Ready to Serve Rice takes 90 seconds to make in the microwave, is perfectly tender and compliments this dish wonderfully. The Garlic & Olive Oil Jasmine Rice variety is my favorite with this dish
Delightful. And easy to make too.
About this Rice
Mahatma® Ready to Serve Rice is easy, microwave-ready rice from the number one selling rice brand in the United States. Made with rice grown in the United States, the varieties (there's also Mahatma® Ready to Serve Cilantro & Lime Jasmine Rice and unflavored Mahatma® Ready to Serve Jasmine Rice) are aromatic, wholesome and delicious.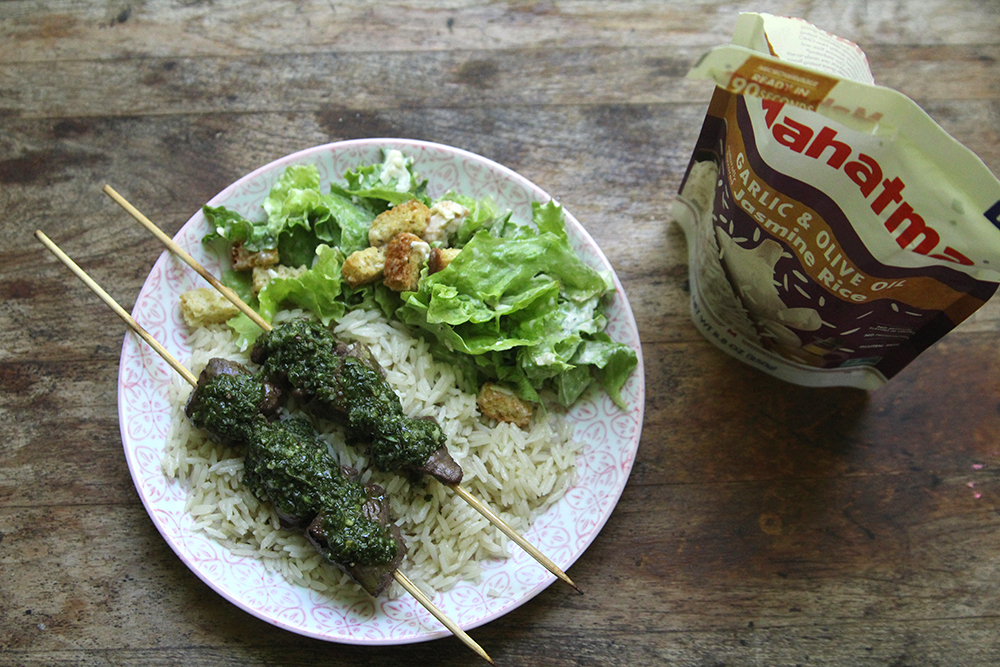 Using this recipe makes dinner even easier to make. There's no extra measuring, seasoning or fussing — just tear open the package a little, pop it in the microwave and cooking according to package directions. It's ready in just 90 seconds.
You can find Mahatma® Ready to Serve Rice at Walmart in the rice aisle. And if you want to try it, there's a coupon for $0.50 off one package.
Elegant and easy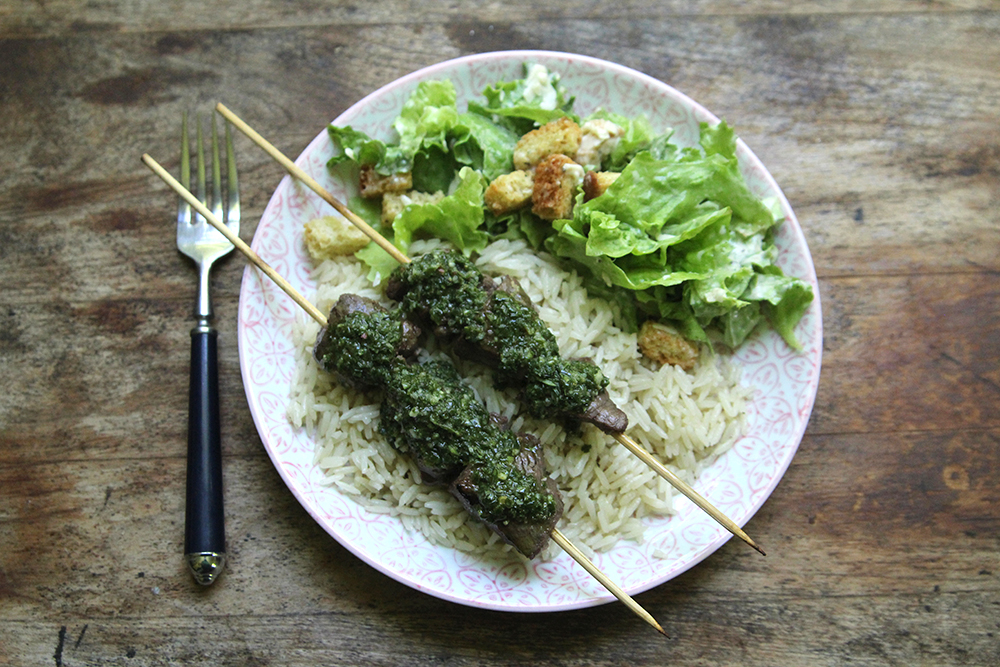 I love this meal — Brazilian Marinated Steak Skewers with Chimichurri and Rice — because it reminds me of that food truck I adored. But also because it's one that has big flavors without requiring lots of prep work. Dinner doesn't have to take hours, require massive amounts of chopping or fancy techniques to be good.
Sometimes it just takes the right ingredients, prepared together in the right way.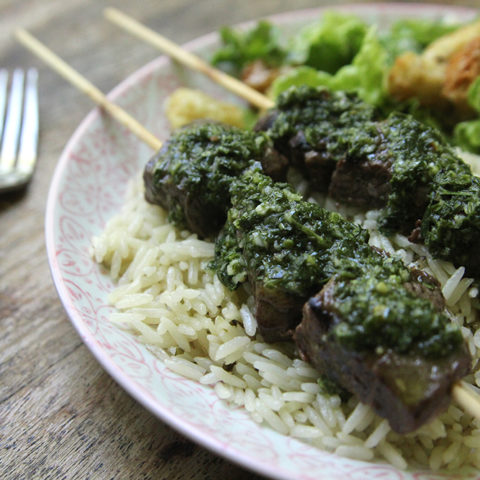 Brazilian Marinated Steak Skewers with Chimichurri and Rice
Total Time:
1 hour
25 minutes
Flavorful marinated steak kebabs are served with a vibrant chimchurri sauce and warm garlic rice in this easy but impressive recipe.
Ingredients
Steak
2 limes, juiced
1/4 cup red wine
1 small onion, finely chopped
5 cloves garlic, minced
2 tbsp olive oil
2 tsp kosher salt
1/2 tsp pepper
1 lb kebab meat or sirloin steak (cut into 3/4-inch pieces)
Chimichurri
1 cup packed parsley leaves and stems
3 cloves garlic, crushed
1/2 cup extra virgin olive oil
2 tbsp red wine vinegar
1 tsp kosher salt
1/4 tsp pepper
1/4 tsp crushed red pepper
Rice
2 packages Mahatma® Ready to Serve Garlic & Olive Oil Jasmine Rice
Instructions
In a medium mixing bowl, whisk together the lime juice, red wine, onion, garlic, olive oil, salt and pepper. Add the kebab meat. Cover and chill for at least an hour. Stir this once or twice if the meat isn't completely submerged.
Once the marinating is complete, thread pieces of the meat onto skewers. I usually do three pieces on each skewer. Continue until all the meat has been used.
Heat a grill pan over medium heat on the stove. Add the kebabs and cook, flipping once, for about 4-6 minutes per side to desired doneness. Alternatively, these can be cooked on a grill.
Remove from heat.
In the bowl of a food processor, combine the chimichurri ingredients. Process until the pieces of herbs and garlic are uniformly small.
Cook the rice according to package directions.
To serve, spoon the Mahatma® Ready to Serve Garlic & Olive Oil Jasmine Rice onto four plates, dividing evenly among them. Add 1/4 of the skewers to each of the plates and spoon chimichurri sauce over, dividing between the plates.
Enjoy!
Sarah Walker Caron is a cookbook author, freelance writer and founder of Sarah's Cucina Bella. She is the author of four cookbooks including The Super Easy 5-Ingredient Cookbook and One-Pot Pasta, both from Rockridge Press. A single mother to a tween and a teen, Sarah loves nightly family dinners, juicy tomatoes plucked fresh from the vine and lazy days on the beach. She also adores reading and traveling.