Crispy baked wonton cups are the perfect vessel for these easy make-ahead Salami Antipasto Wonton Appetizers.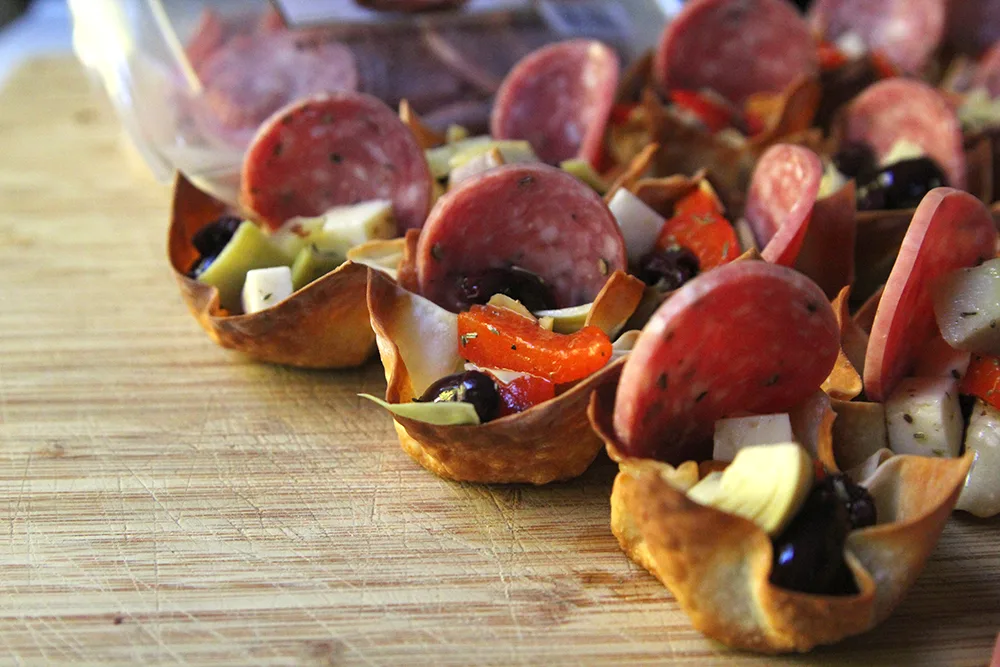 This shop has been compensated by Collective Bias, Inc. and its advertiser. All opinions are my own. #MargheritaItalianMeats #CollectiveBias
The combination of savory salami, sharp cheese, sweet roasted red peppers, meaty artichoke hearts and salty kalamata olives is a wonderful one. Add in some herbs and good olive oil, and you have an antipasto salad to remember.
As the holidays approach, having easy but tasty appetizer recipes that can be made ahead is essential. And knowing how to prepare and display them will make for a less stressful and more fun holiday season.
These delightful appetizers are made better thanks to good quality, great-tasting salami. Margherita® Hard Salami, Margherita® Genoa Salami or Margherita® Italian Dry Salami will all work in this recipe. You can find these salamis (as well as Margherita pepperoni, already sliced) near the deli and cheese sections of many U.S. grocery stores.
Are you familiar with the Margherita brand? It's one of my favorites because the flavor is good and the quality reliable.
Since these Margherita salamis come in cracker cuts, they are easy to use in this recipe (you just slide a slice into each cup). They are also good on charcuterie platters as well (arrange the slices in a swirl or curving pattern).
How to Make Wonton Cups
Wonton wrappers can be found in the produce section of many grocery stores. If you can find dumpling wrappers, which are round (wonton wrappers are square), those will work as well.
To make wonton cups, you'll need a muffin or cupcake pan (essentially the same thing). The standard-sized pan will make cups perfect for these appetizers.
Spray two pans (or cook these in two batches) with cooking oil spray. Fit the wonton wrappers into each of the cavities taking care to press them into the bottom (you want a flat bottom so they stand up properly).
Spray the wrappers with cooking oil spray. This will help them crisp up.
Then bake them.
See? So easy. These cups should be used within 48 hours. Once cooled, you can store them in an airtight container until you're ready to fill them.
How to Make the Antipasto
Antipasto is a classic Italian appetizer that can be made and enjoyed in so many ways. My uncle Hugo used to serve it on a big tray, not unlike the charcuterie boards popular today.
For this version, you mix up the ingredients, fill the cups and then slide a slice of salami in. The result is an appetizer with so much flavor and nuance. Lovely.
The salad can be made up to a day or two in advance and stored in an airtight container until ready to serve
Fill the cups just before serving.
Serving Salami Antipasto Wonton Appetizers
To serve these Salami Antipasto Wonton Appetizers, you'll want to arrange the cups on a tray or platter. But don't stop there. Include the antipasto ingredients, deconstructed, as well.
Arrange extra Margherita salami slices on the tray as well. Extra provolone can be cubed or sliced and arranged on the tray as well. Put extra kalamata olives and quartered artichoke hearts in bowls as well. Be sure to include toothpicks for easy skewering.
Salami Antipasto Wonton Appetizers
Ingredients
Wonton cups
Cooking oil spray
24 wonton wrappers
Salami Antipasto
1/2 cup cubed provolone cheese
1/2 cup chopped artichoke hearts
1/2 cup chopped roasted red peppers
1/2 cup chopped kalamata olives
1 tbsp good olive oil
1/2 tsp dried rosemary
1/2 tsp dried thyme
Margherita® Dry Salami, Margherita® Hard Salami or Margherita® Genoa Salami
Instructions
Make the Wonton Cups
Preheat the oven to 375 degrees Fahrenheit.
Spray two cupcake/muffin pans (standard size) with cooking oil spray (you need 24 cavities). Press a wonton wrapper gently into each cavity. Be sure it's pushed to create a flat bottom — these will need to stand on a platter, after all!
Spray the wonton wrappers lightly with cooking oil spray.
Slide the pans into the preheated oven and cook for 8-10 minutes, until the cups are crispy.
Remove from the oven. Let cool for a few minutes and then turn out onto a cooling rack to finish cooling.
These, once cooled, can be store in an airtight container for up to 24 hours. They are best used as soon as possible though.
Make the Antipasto
In a mixing bowl, stir together the provolone, artichoke hearts, roasted red peppers, olives, olive oil, rosemary and thyme.
Store in an airtight container in the refrigerator until ready to use.
Prepare the Appetizers
In each wonton cup, spoon some of the antipasto and then slide a slice of salami in the side.
Serve immediately.