With just three ingredients, this recipe for Cranberry Honey Baked Brie is easy and ready in 15 minutes or less. Serve this with fruit and crostini for an elegant appetizer.
Years ago, on a trip to Betty Crocker Kitchens back when I was working with General Mills, a fellow food writer made an appetizer that paired a melty cheese — blue cheese, maybe? — with honey. It was a combination I hadn't had before and I was smitten.
After sampling one of her little toasts, part of me want to make off with the whole plate.
The combination of savory and sweet is a dynamite one. And in this appetizer, it gets a touch of tartness as well, lending further complexity to the dish.
But while the flavors of Cranberry Honey Baked Brie are complex, the preparation of it is not. This recipe requires a mere 3 ingredients and can be ready in 15 minutes or less. Together, those things make it an ideal holiday appetizer.
Start by arranging a wheel of brie on a parchment-lined baking sheet. You do need a whole wheel for this, but they are easy to find in the fancy cheese case at your local grocer.
Then top it with cranberry sauce. Any whole berry sauce will do, but homemade does add a special something to this dish.
Then bake it. This will ensure that the brie inside the wheel gets all melty.
Finally, once it's baked, carefully transfer the brie to a serving plate. I like to put it on a mini cake stand in the center of a plate.
Drizzle honey over the top, all over.
Now, arrange crostini and fruit all around it. Or serve it with crackers, bread slices or whatever else you like your brie with. A knife on the side will help with serving.
And then enjoy.
This Cranberry Honey Baked Brie is best made at the very last minute, right before serving. And yes, this is perfect for sharing — whether just with your family or with guests this holiday season.
Warm, melty brie. Sweet-tart cranberry sauce. A drizzle of rich, sweet honey. This easy appetizer feels fancy and tastes decadent. Why not make some Cranberry Honey Baked Brie for your celebrations?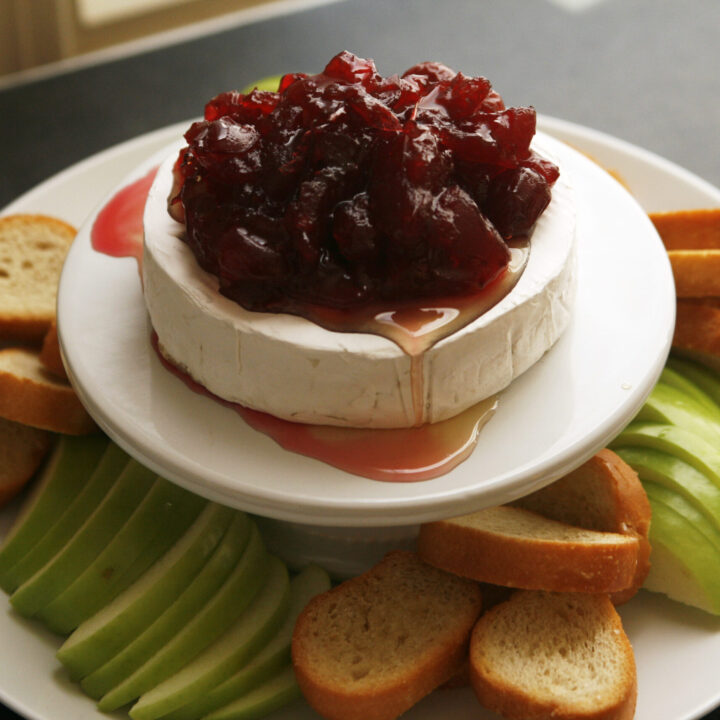 Cranberry Honey Baked Brie
Ingredients
8 oz wheel Brie cheese
½ cup whole berry cranberry sauce
1-2 tbsp honey
For serving: bread, crostini, crackers, sliced apples or a combination thereof
Instructions
Preheat oven to 350 degrees Fahrenheit.
Line a baking sheet with parchment paper and place the brie on it. Top with cranberry sauce. Bake for 7-10 minutes until the brie is soft.
Transfer brie to a serving plate. Drizzle with honey.
Serve with your choice of dippers -- like bread, crostini, crackers or sliced apples.