Light, airy and fluffy. Those are the characteristics of perfect scrambled eggs. Here are quick and easy instructions for how to make them.
For years, I didn't eat scrambled eggs. I'd happily devour hard-boiled eggs, poached eggs, fried eggs or sunny-side-up eggs, but never scrambled. Perhaps I ate too many scrambled eggs in childhood. Perhaps I had too many dry, overcooked scrambled eggs. I don't know. But in the last year, I've rediscovered the joy of light, airy, fluffy scrambled eggs.
In fact, I've grown to love them.
What joy can be found in a plate of soft, gently formed bits of scrambled eggs! And I especially love them with the local eggs I buy from a friend, which have the most beautiful golden yolks and rich flavor. Whatever eggs you have on hand will work for this recipe, nonetheless.
I've also rediscovered how quick and easy this style of eggs is to make.
There are a few things you need for perfect scrambled eggs.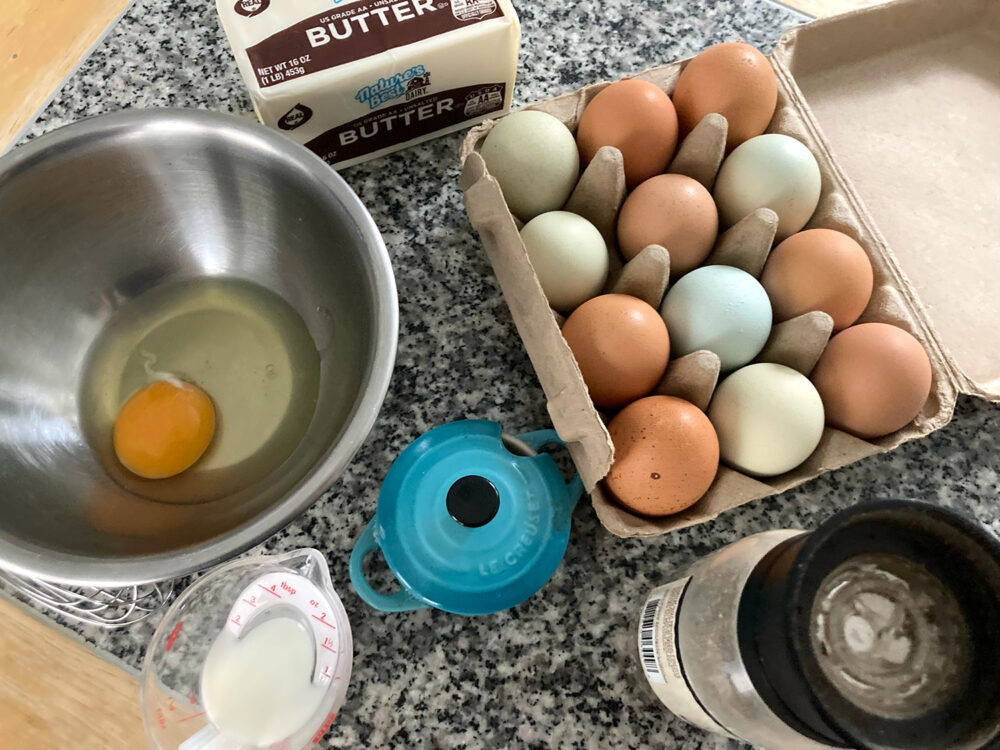 First, there's the gear — a small mixing bowl, a wire whisk, a measuring spoon, a trusty skillet (cast iron or nonstick, for best results) and a rubber spatula. Each of these items is essential to cooking success.
Then, there are the ingredients — unsalted butter for the pan, an egg, milk, salt and pepper.
Start by combining the egg and milk. Season the mixture with salt and pepper — just a pinch or so of each.
This little measuring device is a mini measuring cup that measures in tablespoons — it's fantastic for liquids. Highly recommended.
Then whisk it all together until it's an evenly yellow, bubbly liquid. Once the yolks and the egg whites are sufficiently whisked together, you're ready to cook your eggs.
Melt butter in your skillet. You're going to want to keep the temperature on the low side of medium so that the eggs cook gently, not browning or cooking too fast.
Use the rubber spatula to stir the eggs, scraping the bottom of the pan with each motion.
When the eggs begin to form solids, leaving a wake in the pan, it's important that you keep up the stirring and scraping. This is when your fluffy, perfect scrambled eggs will form.
Continue in this way until the eggs are all solid — but not too soft. You want them to hold shape.
Then transfer those delightful eggs to a plate. It's time to dig in.
On this plate, I've served my perfect scrambled eggs with radish toast and raspberries. But you can serve yours with whatever you love — toast, bacon, sausage, fruit cup, berries, whatever!
Scrambled Eggs for One
This easy recipe will help you make the perfect scrambled eggs for one. Serve this dish with your favorite toast.
Ingredients
1 large egg
1 tablespoons milk
pinch kosher salt
pinch ground black pepper
1 teaspoon unsalted butter
Instructions
Heat a small skillet over medium low heat on the stove.
While the skillet is heating, break one egg into a small mixing bowl. Add the milk, salt and pepper. Whisk vigorously until well combined — about one minute.
Melt the butter in the skillet. Swirl around to coat the whole thing.
Add the egg mixture to the skillet. Using a rubber spatula, move the eggs around, scraping up the more solid pieces and folding into the liquid eggs. Continue until all the eggs have reached a st solid.
Remove the skillet from the burner and transfer the eggs to a waiting plate. Serve with the toast of your choice.