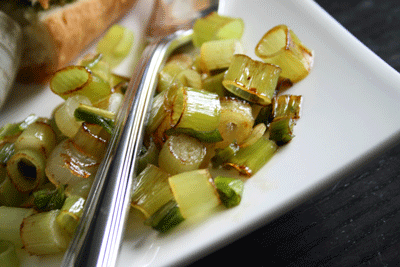 Mmmm.
The first fresh vegetables of late spring. These spring onions popped up at the farmer's market a little over a week ago. They just looked so delicious (should have taken a pic!).
Rather than try to use all in salads, salsas and other condiments, I decided to try something different: cooking them so that they're the star of their own dish. I kid you not.
I got the idea after reading a post about leftover spring onions at In My Kitchen Garden. She had a lot to use up and was looking for inspiration.
I figured why not try cooking them up. It worked and I went back to share this in her comments. But I wanted to share it here too . . . enjoy.
So what are spring onions? They are scallions (or green onions, same thing) that have begun to grow a bulbous end.
The result was tender, caramelized spring onions that make a delightful side dish. This recipe is totally scalable so make as little or as much as you like.
Sauteed Spring Onions
Yield:
1 serving (or more)
Ingredients
spring onions
sugar
water
salt
white wine
Instructions
Slice one spring onion no larger than 1/4 inch. Combine in a skillet with two pinches of sugar, 3 tbsp water, and a sprinkling of salt.
Cover and cook until liquid evaporates and then carefully pour in a gulg of white wine. Cover, stirring once or twice, until wine evaporates (it will brown a bit on the bottom of the pan).
Transfer to a plate (saving as much of the browned glaze as you can) and eat.