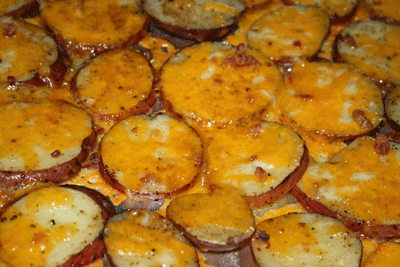 "Mommy, I wannnnt an app-pull."
"No, Will, this is a potato, not an apple, silly!"
"Mommy, I want a potato."
The little hand is outstretched, reaching for the just washed, raw potato . . .
"You will have some, Will, but it needs to be cooked first. Raw potatoes are yuck."
We have conversations like this a lot in my kitchen. Sometimes it's the potatoes, other times its uncooked pasta or rice. Fortunately, I think he's beginning to catch on. These days, Will asks for me to "cook it!" a lot more often.
The other night, I knew I wanted to make some potatoes. But time wasn't on my side. That's how I came to slice them. I wanted them to be flavorful but didn't want the hassle or mess of tossing them in herbs and olive oil, so I drizzled and sprinkled instead. It was only later that I realized the tremendous potential for cheesing them up and giving them a salty zest with bacon.
Shawn suggested that a final sprinkling of sea salt might be a good idea too . . . I was okay without it, but keep that in mind when you try these.
Bonus points: They are ridiculously easy to make. In fact, I made them, for the most part, one-handed since Paige was in a you-must-hold-me-all-night mood. Fortunately for her, she's so darn cute that I can't say no.
Easy Bacon Cheddar Potatoes
Ingredients
4 medium potatoes
olive oil
salt and pepper
chili powder
1/2 cup sharp cheddar
1-2 slices cooked bacon, crumbled
Instructions
Preheat oven to 400 degrees.
Wash potatoes. Then cut into slices about 1/4 inch thick.
Line a baking sheet with aluminum foil. Spray with cooking oil. Arrange potatoes in a single layer on the baking sheet. Drizzle with olive oil. Sprinkle with a generous amount of salt and pepper. Lightly sprinkle with chili powder.
Place the baking sheet in the oven and cook for 20 minutes. Remove from oven and sprinkle with cheddar and bacon. Place back in the oven and cook for an additional 2 minutes. Serve hot.