Somehow, photos of risotto just never do it justice.
The other evening, after strawberry picking, my friends gathered in the kitchen while I cooked dinner: a salad with fresh strawberries, feta and Candied Almonds, steak and Artichoke and Herb Risotto. For the risotto, I was running a little behind and asked my friends to retrieve some fresh herbs from the garden.
I continue to relish the fact that I can serve garden to table food in my own kitchen. Fresh spinach was mixed in the salad with romaine and lettuce grown at the organic farm next door. The herbs grew just feet from my front and back door. I know everything about these foods since I have been so involved in their growing … or, in the case of the organic lettuce, know the people who have that knowledge. It's taking my close relationship with food and making it more intimate than I ever imagined it could be.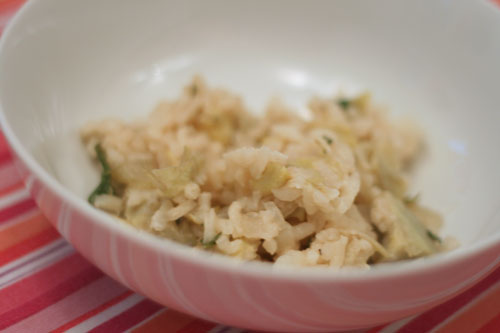 As for the risotto, it's creamy as can be. The artichokes add a richness to the rich that just fills your mouth. The onions bring a tinge of sweetness. And the fresh herbs bring a bright freshness to it . . . oh, it's just so good. Try it.
I think I have found cooking bliss … in perfect risotto.
Artichoke and Herb Risotto
Ingredients
2 tbsp extra virgin olive oil
1 Vidalia onion, , chopped into a 1/2 inch dice
1 large clove garlic, , minced
1 cup Arborio rice
1/2 cup white wine
4 cups chicken broth or stock
salt and pepper, , to taste
1 box frozen artichoke hearts, , thawed and chopped
1 tbsp chopped fresh thyme
1 tbsp chopped fresh rosemary
1 tbsp chopped fresh sage
1/2 cup freshly grated Romano cheese
Instructions
In a large pot, heat the olive oil over medium heat. Add the onion and cook, stirring frequently, until translucent -- this will take a few minutes. Add the garlic and cook, stirring constantly, for one minute. Stir in the rice and let toast for one minute. Pour in the wine and stir. Allow the wine to fully absorb into the rice.
Heat the chicken broth to warm over low heat. Once the wine is absorbed into the rice, begin adding it to the rice mixture one ladle at a time. Allow the broth to be fully absorbed into the rice after each edition (you'll hear a sizzle when its all absorbed). This will take about 25 minutes, but it is totally worth the wait.
Once all of the broth has been added, stir in salt and pepper, the artichokes, the herbs and the cheese. Cover and cook for 2-3 more minutes. Remove from heat and serve immediately.