This quick and easy recipe for Butternut Squash Soup can be topped with crispy shallots for a comforting fall and winter meal.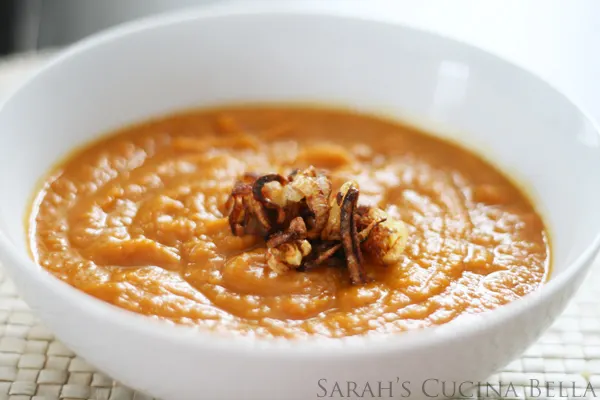 Let's talk comfort food.
Comfort food brings us to that warm, happy, good place, the one where we feel safe and warm and loved. It's food that reminds us of happy times, or just warms us on a cold, wet winter day.
Today definitely falls into that cold, wet winter day category. Although late last night my weather source was predicting maybe two inches of snow, we woke up today to no school and six inches of heavy snow outside. And it's been raining. That makes this day perfect for a warm, comforting soup like this one.
I love pureed soups like Potato Leek Soup and this one, especially when the weather is like this. They are easy and filling and taste so good.
This Butternut Squash Soup begins with sweet onions, sauteed in olive oil until they soften. Carrots, butternut squash and an apple are added to the pot, creating a sweet-savory soup that's thick without requiring thickeners. All of it is boiled in vegetable broth (I prefer Unsalted Kitchen Basics Vegetable Broth, which has a great flavor that's more onion-y).
Once you've seasoned the soup, it's pureed into perfection.
The resulting soup has notes of pumpkin pie though it's decidedly more savory than pie. The sweetness is subtle — a hint. Served with salty crispy shallots on top, it's just divine. The combination of the shallots and the soup really make it special.
This Butternut Squash Soup is perfect for serving up on a cool day with warm biscuits and creamy butter.
And the kids? They loved it too. As Will said, it's a win-na!
Butternut Squash Soup
This quick and easy recipe for Butternut Squash Soup can be topped with crispy shallots for a comforting fall and winter meal.
Ingredients
2 tbsp olive oil
1 sweet onion, diced
salt, pinch
2 carrots, peeled and sliced into thin disks
1 apple, peeled, cored and diced
2 lb butternut squash, cubed
4 cup vegetable broth
1 tsp cinnamon
1 tsp ginger
1 tsp paprika
1/4 tsp cloves
salt and pepper, to taste
Instructions
Heat the olive oil in a large Dutch oven over medium heat. Add the onion and stir. Salt lightly, cover and cook for 10 minutes, until just starting to get translucent.
Stir in the carrots, apples, butternut squash and vegetable. Cover and cook for 30 minutes.
Stir in seasonings and reduce heat. Simmer for 10 minutes. Use a stick blender to puree the soup. Serve warm.
Optional: Garnish with crispy shallots. To make: Heat 1 tbsp olive oil in a small skillet. Slice shallots into thin rounds (use about one shallot/person). Saute the shallots in the oil, salting with sea salt, until browned. Transfer to a paper towel-lined plate and let sit for a minute or two. Then spoon onto each bowl of soup.
Hey! One more thing. I have an exciting new writing job. I am blogging thrice weekly for Tablespoon, a food/recipe sharing site owned by General Mills. Check out my first post over there, Chicken Dinner. Please head over there and check it out!