Looking for a great baked cod recipe? This quick and easy recipe for Baked Lemon Herb Cod is simple but yields a rich, flavorful dish everyone will love.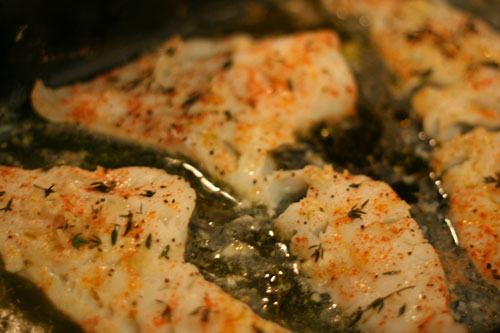 Sometimes, you taste something – just a little bite of it – and it blows you away. That was the case with this dish. It was rich, buttery even (although there is no butter in the recipe), and absolutely mouthwatering.
This was a dinner that the kids devoured so fast that I did a double-take. Really, this Baked Lemon Herb Cod was just that good.
The fish itself is good and full of flavor. I used thin wild-caught cod fillets that were on sale at my local grocery store. (Any cod will work for it.) But that alone isn't amazing.
It's the pan sauce that you drizzle over everything that knocks this up a notch. Rich, garlicky and a little tart thanks to the lemon juice, it takes good fish and makes it extraordinary.
Another thing I love about this Baked Lemon Herb Cod recipe?
It takes less than 25 minutes to make, which makes it absolutely perfect for those busy evenings when dinner needs to get on the table fast. I think you know the ones I'm talking about.
I served this with Basmati Rice Medley from Trader Joe's (love that!), which I season with salt, pepper and sometimes some barbecue seasoning (it's found in the spice aisle). The dish would go really well with a side of roasted broccoli.
And one more thing … this is totally economical too. This meal — including rice and a vegetable — can be made for well under $10. High flavor at a low cost? Love it.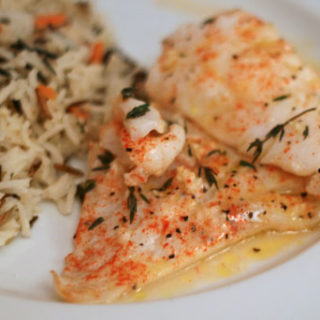 Baked Lemon Herb Cod Recipe
Ingredients
1 lb cod fillets
1 1/2 tbsp lemon juice
1 tbsp extra virgin olive oil
2 cloves garlic, , crushed and minced
1 tsp fresh thyme, , lightly chopped
sea salt
pepper
Sweet Hungarian Paprika
Instructions
Preheat the oven to 400 degrees. Get out a 9×13 glass baking dish.
Rinse the cod fillets under cool water and place in the baking dish. Drizzle with lemon juice and olive oil. Then sprinkle with garlic, thyme, salt, pepper and paprika. Try to divide the seasonings as equally as possible between the fish.
Bake for 13-17 minutes until the flesh is opaque in color. Serve with rice, spooning the juices from the pan over the fish and rice.
Devour.
Notes
recipe adapted very slightly from EatBetterAmerica @ Tablespoon
Love this recipe?
Then you'll want to check out my cookbook, The Super Easy 5-Ingredient Cookbook, published by Rockridge Press. It's all about cooking well, easily and simply. It's filled with easy, accessible recipes that the whole family will love. We're talking one-pan, 30-minute and no-cook recipes for every meal of the day.