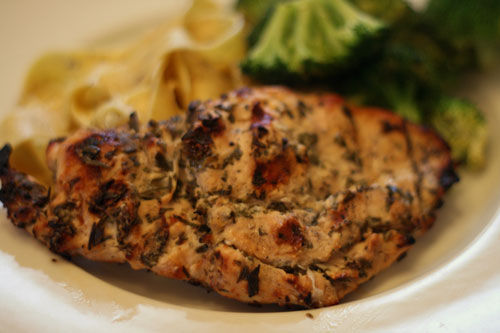 When the temperatures turned warm last week, we couldn't wait to break out the grill. There is a fantastic flavor that food gets when its cooked over a flame in the wide open air.
Mmm.
Yes, it's still March but grilling season has started for us.
Still, when I was developing this recipe, I didn't intend it to be a grilled dish. On the stovetop, it's good … it's easy … it's fast. But that grilled flavor makes it so much more wonderful.
The flavor of this? Decidedly rosemary. The notes of lemon and garlic play quiet supporting roles to the strong, vibrant main attraction — and that's a wonderful thing if you love rosemary like we do.
We ate this with some lightly flavored pasta and roasted broccoli.
In a word: fabulous.
Tomorrow, the leftovers will top our homemade pizza for dinner. Can't wait.
Are you ready to grill yet?
Grilled Rosemary Chicken
Ingredients
1 1/2 lb boneless, , skinless chicken, trimmed and pounded into 1/2 inch thick cutlets
1 lemon, , juiced
2 tbsp olive oil
1/4 cup finely chopped fresh rosemary
1 clove garlic, , crushed
salt and pepper
Instructions
Rinse the chicken under cold water and then place into a resealable bag or container. Set aside.
Add the lemon juice, olive oil, rosemary, garlic, salt and pepper to the bag with the chicken. Seal the bag, leaving as little air inside as possible. Shake and squish well to fully mix and coat the chicken.
Let the chicken marinate for at least 1 hour.
Heat the grill (it should be about a medium flame). Cook the chicken for 15-18 minutes, flipping several times to ensure even cooking.
Serve.
Nutrition Information:
Yield:

6
Serving Size:

1
Amount Per Serving:
Calories:

457
Total Fat:

22g
Saturated Fat:

5g
Trans Fat:

0g
Unsaturated Fat:

14g
Cholesterol:

188mg
Sodium:

268mg
Carbohydrates:

5g
Fiber:

1g
Sugar:

1g
Protein:

57g