This Prosciutto and Arugula Deviled Eggs recipe is a lovely appetizer for any celebration, featuring salty prosciutto and peppery arugula in the creamy deviled egg filling.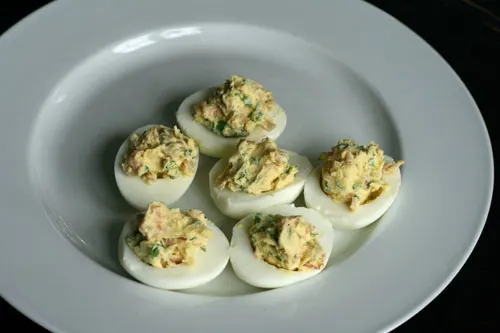 When my friend came to visit this weekend, I don't think she was expecting me to be recipe testing. But it was a rainy, dreary Sunday and that meant that heading to the zoo, the park or anywhere else outdoors was out. So, I whipped out my handy-dandy notebook and decided to test a few recipes.
This friend has known me since before I could really cook.
In college, I tried. I really did. But it felt like recipes were written in some version of English I had never seen before.
My friend was there when I eschewed cans of Spaghetti-O's to make a fancy-pants pasta lunch that looked strangely like … Spaghetti-O's (and she appropriately laughed at the time I spent creating from scratch what I already had).
She braved my many vegetarian soups … which all tasted strangely similar. And then, when my cooking ambitions were replaced by frequent ventures for takeout, she and I supported each other as we dropped all the pounds.
So, this Sunday, she helped me eat my way through three deviled egg recipes that I've been working on. One was a fail — it happens. But the other two turned out perfectly. There was supposed to be a fourth but, well, it turns out that there is a such thing as too many eggs …
These are Will's and my favorite of the bunch. I love the nuanced combination of flavors in these Prosciutto and Arugula Deviled Eggs. They're a little salty and peppery … but not too much of any flavor. It's subtle, but still a step up from the ordinary.
These would be a fantastic addition to any Easter spread.
Prosciutto and Arugula Deviled Eggs Recipe
Ingredients
6 hard-boiled eggs
1 oz prosciutto, finely chopped
3 tbsp light mayonnaise
1/2 tsp lemon juice
2 tbsp finely chopped arugula
1/8 tsp black pepper
1/4 tsp dry mustard
Instructions
Cut the eggs in half and remove the yolks (drop them into a medium-sized bowl). Arrange the intact egg white halves on a plate and set aside.
To the egg yolks, add the prosciutto, mayonnaise, lemon juice, arugula, black pepper and dry mustard. Mash and stir with a fork until fully combined and somewhat smooth.
Divide the egg yolk mixture evenly between the egg white halves mounding it as necessary. Cover and chill until ready to serve.