Love pizza? Learn how to make good homemade pizza from the comfort of your own kitchen.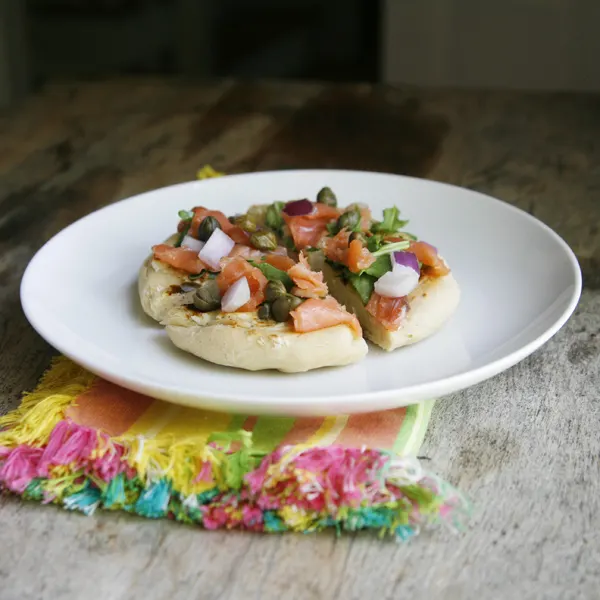 Oh homemade pizza. When I was a tween, my parents and I would occasionally make our own at home for a fun Friday dinner, loading it up with toppings. As I got older, I started making it on my own too. Sometimes I'd use store-bought dough. Other times I would make my own — using my recipe for deep dish pizza dough or a different one for a thinner crust.
When making thin crust pizza, I prefer to cook it on a pizza stone, which helps it get that crisp crust that stands up to toppings. Mine, which I also use for breads, is well seasoned from lots of use, bearing little black marks like badges of honor where past pizzas and rolls have puffed and baked.
It's been a while since I made pizza at home, but this week I really wanted some fresh from my own oven. When I was planning our meals for this week, I specifically made sure to include extra chicken on the menu so that I could reuse the leftovers on a pizza for another night. Smart thinking, no? We topped that homemade pizza with the leftovers from my Roasted Rosemary Chicken recipe, about two slices of crispy, crumbled bacon and lots of mozzarella. It took all of 10 minutes to toss together (and really, most of that time was spent working the dough into a good-sized circle). I can't wait to make the whole thing again (including the chicken!).
So good.
Of course, pizza can be good at any time of the day — even breakfast. The Gluten-Free Smoked Salmon Breakfast Pizza (pictured at the top of this post) is a great way to start the day.
Want to make pizza at home? Here are some tips to make your homemade pizza excellent.
Secrets of a Good Homemade Pizza
If you are using dough from the grocery store (I love the dough from Trader Joe's), let it sit on the counter for 30 minutes before using. You want it to warm up because it will stretch easier.
If using a pizza stone, heat the pizza stone in the oven for at least 30 minutes before you use it.
Build your pizza on a pizza peel — but make sure that it's floured up so it easily slips off onto the pizza stone when its time.
When you go to shape the dough, be gentle. You need to work it little by little until it's a good sized circle or rectangle.
Don't overdo it on the sauce.
Watch the pizza — particularly towards the end of the cooking time. It can quickly go from perfect to overcooked in those last few minutes.
Do you make your own pizza? Share your tips!