So I made an awesome dish – Bacon Braised Cabbage – on Saturday, knowing full well that I was going to write about it this week. I plated it in a white bowl, mounding it just so. I even carefully placed bits of bacon in strategic spots. My camera was there at the ready …
Apparently, I never actually photographed the finished product. Um. Yea. Forgive me … it was apparently so good, I couldn't wait to dig in.
Fortunately, I did photograph the process, so we aren't totally devoid of tasty photos. Hopefully, my prep photos will do.
Now, can we get down to business? I really want to tell you about this delicious Bacon Braised Cabbage from Jamie's Food Revolution: Rediscover How to Cook Simple, Delicious, Affordable Meals.
This is the second recipe I have made from the book. Last week I made a pasta from Jamie's Food Revolution that was really tasty.
For this one, bacon is chopped and cooked to crispy in a saucepan. Then shredded cabbage is tossed into the pan and mixed up.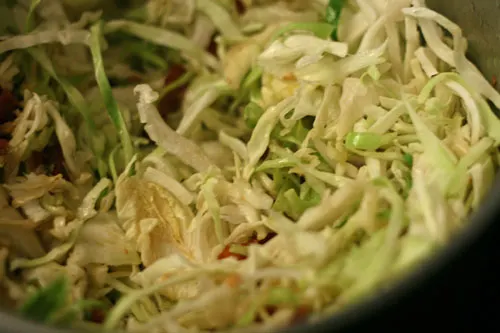 Add some liquid, cover and braise … then devour.
Then I totally devoured this. Will wasn't as much of a fan and Paige wasn't interested. But me? I couldn't get enough. It was a fabulous mix of salty bacon and sweet bits of cabbage.
This time, I didn't follow the recipe exactly — I made a few changes. I traded bouillon for chicken stock and halved the Worcestershire sauce (I ran out). I also cut out the olive oil in this, since I just didn't think it was necessary — and the dish was perfect without it. I wouldn't make it any other way.
Like last time, I found the directions in the book a little hard to follow. In this case, there is no separate list of ingredients followed by numbered steps. Instead, it's presented as one paragraph — something that I find off-putting. However, this Bacon Braised Cabbage is a great recipe with an amazing flavor.
So, the book? I like it. Next week, I am going to write about other recipes too, so be sure to check back.
Braised Bacon Cabbage
adapted from Jamie's Food Revolution: Rediscover How to Cook Simple, Delicious, Affordable Meals
Ingredients
6 slices smoked bacon, , chopped
2 cloves garlic, , minced
1 small head cabbage, , shredded
1 tbsp Worcestershire sauce
2 pats butter
1 1/4 cup chicken stock, (or broth)
sea salt and pepper, , to taste
Instructions
Heat a large saucepan over medium heat. Add the bacon and cook until browned and crisp (5-7 minutes).
Add the garlic and stir well. Cook for about a minute, until just starting to color. Add the Worcestershire sauce and butter. Stir well.
Add the cabbage and toss well with the bacon mixture.
Turn up the heat to high and add the chicken stock or broth. Cover the pan and cook for five minutes. Remove the cover, stir and cook for an additional five minutes.
Remove the pan from the heat and add salt and pepper to taste. Serve.