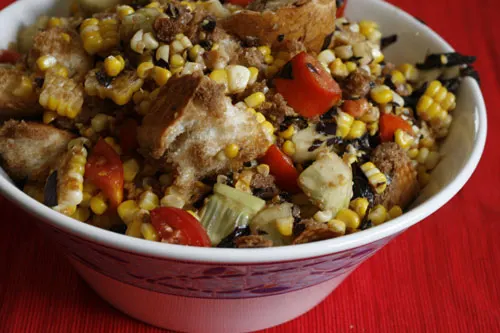 I made my first panzanella (aka bread salad) earlier this year and it was fabulous. The flavorful, fresh salad was perfect for a summertime meal. So, when I contemplated how to pair tomatoes and corn in a special dish for Foodie Fights!*, my mind jumped back to panzanella. (Psst! If you head over to the site, vote for my dish! Please?) What better way to use two of my favorite summer farmers' market finds than in an easy summer salad?
Panzanella is a traditional Italian dish, typically served in the summer months. From what I've read in books and online, it's big in Tuscany and other areas. Can't you just imagine yourself eating this while sitting on the patio of a fabulous Tuscan villa? That's what it totally reminds me of. Think Under the Tuscan Sun. (Coincidentally, did you know that Under the Tuscan Sun is a memoir? I didn't. And apparently, it has several follow-ups too, including Bella Tuscany: The Sweet Life in Italy. Who knew?)
This version of panzanella, my Balsamic Tomato, Corn and Cucumber Panzanella, has a lovely sweetness to it from both the fresh sweet corn and the lightly sweetened balsamic dressing. Bread salads like this aren't just croutons on a tossed salad — the bread soaks in the dressing giving you spurts of freshness throughout. It's delish.
Since this is a traditional type dish, it has a set of traditional ingredients that you'd normally find in it. Typically, it's made with old bread, fresh tomatoes, onions, basil, vinegar, olive oil and salt and pepper, among other mix-ins. For this one, I skipped the onions and added cucumbers and fresh corn.
My kids took care of tearing the bread for me. Why tear it rather than chop it? Well, for one, tearing is more fun. But more importantly, it's just how it's done. The rusticness of the torn bread is nice too.
While they did that, I chopped the tomatoes, cucumbers and basil. All the veggies went into a big mixing bowl with the corn.
In traditional panzanella, the bread is sometimes browned in olive oil or soaked in water. But I didn't want the extra calories of the oil or the mushiness of the water-soaked bread so I skipped that part. Instead, I very lightly toasted the bread in the oven so that it holds up against the dressing, and even has some crunchy parts in the finished salad.
As for the corn, it's in season now, so of course I used fresh corn from a local farm. It's unbelievably sweet. For the salad, I used a knife to cut the kernels from the cob. No fancy tools necessary.
This is the veggies and opal basil in a bowl, before mixing and dressing. I love the colors.
Will whisked up the ingredients for the dressing. He's become quite the old pro at whisking sauces and dressings together.
Then comes the bread. I dress the veggies first, and then add the bread so that everything gets equal attention.
And, finally, the recipe …
Balsamic Tomato, Corn and Cucumber Panzanella Recipe
Ingredients
1/2 loaf day-old Italian bread
3 ears sweet corn, steamed or boiled
1 1/2 cup diced fresh tomatoes
1 medium cucumber, peeled and diced
1/2 cup chopped purple basil, aka opal basil
1/4 cup olive oil
3 tbsp balsamic vinegar
1 tbsp honey
salt and pepper, to taste
Instructions
Preheat the oven to 350 degrees.
Tear the bread into bite-size chunks. Arrange on a baking sheet and bake for 10 minutes, stirring once about half way through.
Meanwhile, use a knife to cut the kernels from the ears of corn. (Hold the corn vertically on a cutting board and cut down so that the kernels fall onto the board.)
In a large mixing bowl, combine the kernels of corn, tomato, cucumber and basil. Stir well. Then, set aside.
In a small bowl, whisk together the olive oil, balsamic vinegar, honey, salt and pepper.
Pour the dressing over the corn mixture. Stir well to combine. Add the bread to the bowl and stir well. Let sit 10 minutes, then stir again.
Transfer the salad to a serving bowl and serve.
*Foodie Fights! is a fun online competition that pits food lover against food lover, asking them to use their creativity to battle it out with two special ingredients (hence the corn and tomatoes this week).