Every fall, I make a big batch of Roasted Tomato Sauce (and, last year, tomato paste) and can it for wintertime. Opening up a jar of it in the dead of winter is glorious. It's like bottling summertime. But this year I just haven't gotten to it and really am not sure if I will. While I love having my own, fresh, homemade sauce ready to go, I've had a lot on my plate lately.
But I still want to make it.
In the meantime, I am small batch cooking with tomatoes. This lovely Heirloom Tomato and Provolone Sauce is a thick, hearty, slow-cooked sauce with a sharp, but craveworthy, taste. It's enriched with a little butter too, an idea I gleaned from the latest issue of Bon Appetit (it's in Molly Wizenberg's column).
All in all, this sauce can be made in a little over an hour. You start by chopping tomatoes and crushing garlic. Toss it in the pan with a few other ingredients and bring to a boil. Reduce the heat and let it simmer for an hour. Then, you puree the sauce, add the butter and cook for a few more minutes. Ready to serve.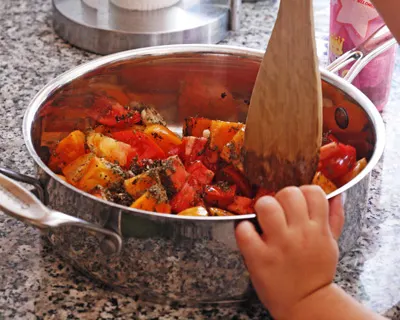 Paige and Will helped me make this sauce. Paige transferred most of the ingredients to the pan and stirred it all together. Meanwhile, Will ran the scraps out to the compost pile. They love helping in the kitchen — anyway that they are asked to.
Love that.
Heirloom Tomato and Provolone Sauce
Ingredients
2 lbs heirloom tomatoes, chopped
5 cloves garlic, crushed
1 tbsp dried basil, or 1/4 cup chopped fresh basil
1 tbsp balsamic vinegar
salt and pepper, to taste
1 tbsp butter
Instructions
In a large saucepan, combine the tomatoes, garlic, basil, balsamic vinegar and salt and pepper. Stir together.
Place the pan on the burner and heat over medium heat until boiling. Reduce heat, cover and simmer for 1 hour.
Using an immersion blender (preferably), puree the sauce in the pan to desired consistency. Be careful. It will be VERY hot. Add the butter and stir to combine.
Cover and cook for an additional 10 minutes.
Serve over pasta.