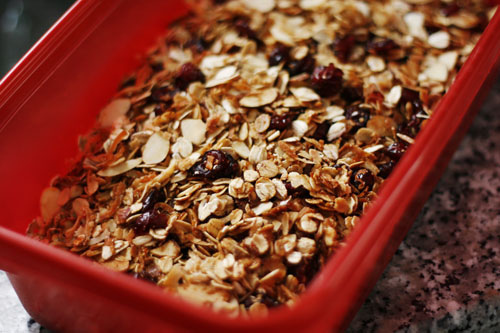 When Paige and I went to the grocery store yesterday, we emerged with a selection of fruits and veggies, a couple pounds of my favorite bacon (the price dropped from $3.99 to $0.99/lb!) and four different yogurts. And I don't mean four containers, I mean mass quantities of four different kinds of yogurt. If you are doing the math, that comes out to a different variety of yogurt for every member of my household.
The funny thing is that we're not all big yogurt eaters.
Paige loves it and could polish off several in a day if we let her (which we don't because we are trying to teach her moderation). Shawn really, really likes Greek yogurt for breakfast, so he's definitely in the goes-through-it-quick club too.
But Will? He's more like me. He likes it well enough and enjoys it now and then, but he's not a huge fan. Still, it makes a great snack for school, so I try to pack him a yogurt several times a week – and I know that if I do, he'll definitely eat it. Paige insisted on getting him his own yogurt because "it's his faberit!" (Faberit=favorite).
For me, yogurt is something that I eat, and like well enough. But if I want to enjoy it, it needs to be more than a silky smooth spoonful. It needs to have dimension.
That's where a sprinkle of some good granola comes in. It gives it that crunch that I crave without totally abandoning the healthy benefits of yogurt. Heck, adding a sprinkling of granola adds something to it too — a little protein from the nuts, a little whole grain.
But premade granolas? They are pricey. Making it at home? Much more cost effective. Seriously.
This recipe for Homemade Cranberry Almond Granola is a little sweet and definitely crispy, making it perfect for topping yogurt, ice cream or whatever you want. And I especially love the hint of cinnamon — one of my favorite spices.
It's simple to make. You start by piling all the oats, nuts and coconut on a baking sheet.
Then you drizzle it with a mixture of honey, oil and cinnamon. Toss it together and then bake.
Once it's all golden and toasted, you take it out of the oven and add the cranberries. Mix it up, let it cool and then store it an airtight container. it'll be good for up to a month.
Are you a yogurt fan? What's your favorite kind or type?
Homemade Cranberry Almond Granola
adapted from Everyday Food, May 2009
Ingredients
2 cups old-fashioned rolled oats
1/2 cup sweetened shredded coconut
1/2 cup sliced almonds
2 tbsp olive oil
2 tbsp honey
1/4 tsp cinnamon
1 cup dried cranberries
Instructions
Preheat oven to 350 degrees. Line a rimmed baking sheet with aluminum foil.
Add the rolled oats, coconut and almonds to the rimmed baking sheet and toss to combine.
In a small bowl, stir together the olive oil, honey and cinnamon. Drizzle over the oats mixture and stir to combine.
Bake for 15-20 minutes, stirring once or twice, until golden brown. Remove from the oven and toss with the cranberries.
Store in an airtight container for up to 1 month.