Like most people, I learned to love pierogies thanks to the frozen section of the grocery store. They were easy to heat up and eat fast, which made them all the more desirable. I never even thought of how the potato and cheese-filled pasta was made, until I was working at the newspaper years ago and heard about a local group's pierogi making party.
Even then, I never thought I would make them myself.
But I did decide to try making pierogies. Now, these probably aren't as amazing as a polish grandmother's time-honored recipe, but they are easy, delicious and even better than the frozen ones that I fell in love with years ago.
The filling is a mix of potato from a baked potato (save the skins for potato skins!), cheddar, salt, pepper and milk. The pasta outside? Premade round wraps from the grocery store. You can find these in the produce section near the wonton wrappers. They are pasta, and are super easy to use.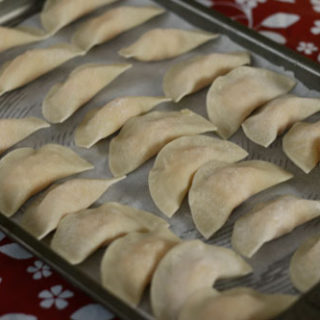 Easy Homemade Pierogies
Ingredients
1 1/2 lbs russet potatoes, baked and cooled
6 oz grated sharp cheddar cheese
1/4 tsp kosher salt
1/4 tsp ground pepper
2 tbsp nonfat milk
1 package round wraps, found in the produce section -- they are used for gzoya, dumplings and pasta
Instructions
Cut the potatoes in half. Use a spoon to scoop the flesh into the bowl of a stand mixer (potato skins can be reserved for a fun appetizer!). Add the cheddar cheese, salt and pepper.
Run the stand mixer on low for 30 seconds and them medium for 1 minute. Add the milk and mix on medium speed until combined.
Fill a small bowl with a little water. Using one round wrap at a time, place a scant teaspoon of filling in the center of the wrap. Dip your finger in water and moisten the edge of the wrap all the way around. Press closed in a half-moon shape, tightly sealing with your fingers as you go.
Bring a large pot of salted water to a boil. Add the pierogies and boil for 5-6 minutes, until the pasta is translucent and cooked through. Remove with a slotted spoon and plate immediately.
Serve with your preferred sauce such as salsa or marinara.