Quick Pork and Peanut Stir-Fry is an intensely flavored dish with a sweet-ish sauce, crunchy peanuts and aromatic scallions.
Remember how I was meal planning for a while? It worked so well, and being organized (and planned) made the evenings go really smoothly.
Unfortunately, I really haven't done that in a long time. In fact, my meal planning calendar still lists a week in October. As a result, dinner has become a great big hectic feat — I hate that. It's awful when you see 5 p.m. fast approaching with nothing defrosted and no idea what to make. Clearly, I need to start doing that again.
When I took out pork chops for dinner last night, I knew I needed to have a plan long before dinnertime arrived. Otherwise, I would be freaking out, and trying to figure out how to turn them into something tasty.
I rarely make pork of any kind, so I turned to my vast collection of cookbooks. I don't often cook from cookbooks, but when I do it's because I need to make something that will most likely work. Since I am relatively inexperienced with pork, this pork and peanut stir-fry recipe from the All You: Eat Well, Save Big Cookbook by the editors of All You magazine allowed me to experiment with a new way of making chops … and it turned out great. I will definitely use this cooking method again (and this recipe too).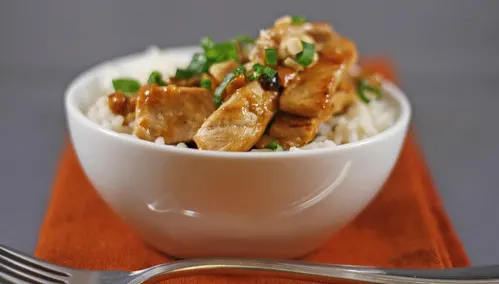 Making this dish was so easy. A little chopping, mixing and cooking and it's ready to eat.
In making it, I did make a few trades and I traded out the chicken broth for vegetable stock that I had in the fridge. I also used a low-sodium soy sauce and halved the amount of ginger in the recipe. The result was an intensely flavored dish that everyone polished off fast. I loved the sweet-ish sauce with the crunch of the peanuts and aromatic scallions (aka green onions).
The trick to making this quickly is to have all the ingredients for this Quick Pork and Peanut Stir-Fry ready to go when you start cooking. It takes maybe 15 minutes to make, max, so you won't be waiting long to enjoy it.

What's your favorite stir-fry?
Quick Pork and Peanut Stir-Fry
Quick Pork and Peanut Stir-Fry is an intensely flavored dish with a sweet-ish sauce, crunchy peanuts and aromatic scallions. This recipe is adapted from All You Eat Well, Save Big Cookbook.
Ingredients
1/4 cup low-sodium vegetable stock
1 tbsp low-sodium soy sauce
1 tbsp seasoned rice vinegar
2 tsp cornstarch
2 tsp light olive oil
1 1- inch piece of fresh ginger, peeled and grated
5 scallions, chopped with the white parts and the green parts separated
1 lb boneless pork chops, cut into thin strips
1/4 cup dry-roasted peanuts, chopped (plus extra for sprinkling)
Instructions
Whisk together the vegetable stock, soy sauce, rice vinegar and cornstarch. Set aside.
Heat the olive oil in a large skillet over medium-high heat (closer to medium than high). Add the white part of the scallions and the ginger and cook for 1 minute, stirring once or twice.
Add the pork to the skillet and cook for 5-6 minutes, stirring occasionally, until no pink is visible.
Pour the sauce into the skillet and add the peanuts. Stir well to combine. Cook for 2-3 minutes, until the sauce is thickened and coats everything. Add a little extra vegetable stock, if necessary, to give the sauce your desired consistency.
Serve over rice.
Nutrition Information:
Yield:

4
Serving Size:

1
Amount Per Serving:
Calories:

350
Total Fat:

22g
Saturated Fat:

7g
Trans Fat:

0g
Unsaturated Fat:

14g
Cholesterol:

85mg
Sodium:

276mg
Carbohydrates:

6g
Fiber:

1g
Sugar:

1g
Protein:

33g
---
Disclosure: I don't know if I actually need to disclose this or not, but this cookbook was a gift from someone at the publisher. I wasn't asked to review it (as it was a gift), but I liked this recipe so much that I wanted to write about it. I wasn't asked to write about this at all. I chose to.