S'mores are summertime.
They speak of summer camp, bonfires and roasting marshmallows on actual sticks (you know, the kind from the woods!). And when I think of them, I think about the rustic conditions of the summer camps I went to and loved.
Making s'mores was the highlight of every summer camp experience of my youth. And man, did I love summer camp: swimming in murky ponds, learning to sail and windsurf, sleeping in sleeping bags. But s'mores, and the bonfires that they accompanied? Those were the best.
I mean, what's not to love? That melty chocolate, the soft puffed marshmallows with a crisp outside and two graham crackers holding it all in place combine to make something extraordinary. It's just magic. And it's pretty special how it can bring together campers of all backgrounds, bonding over a common love for burning marshmallows and squashing them into sandwiches.
I can remember many a summer evening spent shoulder to shoulder with my camp friends, sticking my marshmallow toward the fire, waiting for it to turn that deep brown.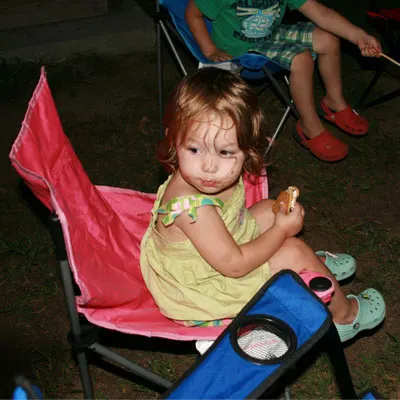 I've passed my s'mores love onto my kids. In fact, when they noticed me making Oven S'mores this afternoon, they were quick to ask who'd be eating them.
They've been patiently waiting their first s'mores of the season. Usually, it's had around a campfire while camping, but we haven't been yet.
Still, in the meantime, making these Oven S'mores is an easy, fast and simple way to fill the craving.
See also Chocolate Covered S'mores Grahams.
Oven S'mores
Ingredients
Graham crackers
Hershey's Milk Chocolate Bars
Marshmallows
Instructions
Line a baking sheet with nonstick aluminum foil (or parchment paper). Lay out as many graham crackers as you want and top each with Hershey's Chocolate. Place a marshmallow on top.
Turn the oven onto broil and slide the tray in, leaving the door ajar. Watch closely. When the marshmallows reach your desired level of brownness, immediately remove the tray from the oven. Cover each with another graham cracker and let them cool slightly.
Enjoy!
This post is part of my participation in the Hershey's "Say S'mores" Promotion. All opinions expressed are mine.