Bright and earthy Swiss chard and salty, rich kielbasa combine in this quick and easy recipe for Penne with Swiss Chard and Kielbasa.
Since our first glimpse of spring this year, I have been waiting, yearning, planning. For months, I have been imaging what it would be like when I got to start bringing home my overflowing veggie basket from my CSA.
If you aren't familiar with CSAs, it's an abbreviation for Community Supported Agriculture programs. Basically, you purchase a share in a farm's crops before the season begins and then you receive a basket filled with produce each week for a specified time in the summer. For veggie lovers like me, it's awesome.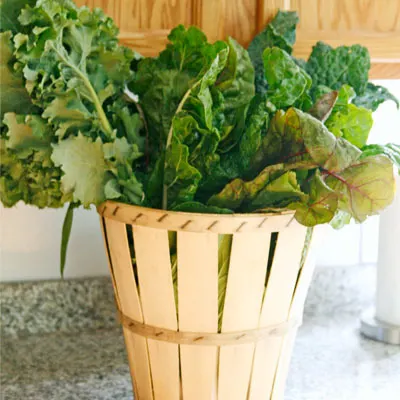 Today was our first pick-up. Our basket was stuffed with greens – chard, kale, mustard greens and pak choi. Lettuce too. And there's corn. Ten ears of fresh corn. Oh, I've waited so long for fresh corn. I can't wait to eat some. Unpacking the basket is always a nice, fun surprise.
When I saw the basket, I immediately knew what was for dinner: Penne with Swiss Chard and Kielbasa. It's a riff on a summertime recipe that I created five years ago, changing the type of pasta and updating the method. It was just as delicious as it was when we first started eating it years ago.
The kids and I hit the grocery store and picked up kielbasa, then I whipped up the ultra-easy pasta. It takes about 30 minutes to make, but most of the time is spent just preparing the ingredients for cooking like chopping chard and cutting the kielbasa. All in all, it's simple, easy, fast. And the kids? They loved it.
Penne with Swiss Chard and Kielbasa
Bright and earthy Swiss chard and salty, rich kielbasa combine in this quick and easy recipe for Penne with Swiss Chard and Kielbasa.
Ingredients
1 bunch Swiss chard, stems and leaves separated
1 kielbasa, cut into 1/4-inch chunks
1 tbsp extra virgin olive oil
1/2 tsp Kosher salt
2 cloves garlic, minced
1/2 cup water
1/4-1/2 tsp dried red pepper flakes
1 pound penne pasta, cooked and kept hot
fresh grated Romano cheese
Instructions
Chop the Swiss chard stems finely and set aside. Then, chop the leaves roughly and set aside separately. Additionally, gather all of your ingredients and have them ready to go. This whole dish cooks up really fast.
Set a large pot over high heat on the stove and preheat. Once it's good and hot, toss in the kielbasa and cook until golden brown, stirring occasionally (about 2 minutes). Remove the kielbasa from the pan with a slotted spoon.
Next, reduce the heat of the burner to medium. Add the olive oil, salt and Swiss chard stems to the pot and cook for 3-4 minutes, until they begin to soften. Add the garlic and stir well. Cook for 1 minute.
Stir in the Swiss chard leaves, water and red pepper flakes. Cover, reduce heat to low and simmer for 5-8 minutes, until the stems are tender. Stir in the kielbasa and toss well. Remove from heat.
Add the pasta to the pan and toss to mix. Serve immediately with freshly grated Romano cheese for sprinkling.