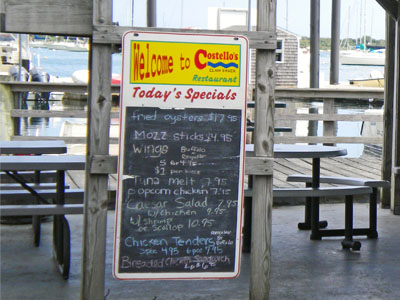 Lobster rolls are a big thing in New England. Cold lobster rolls — ones that have sweet pieces of lobster enrobed in a little mayo dressing and piled into a toasted New England hot dog bun — are what are most often served. They're often called Maine lobster rolls and many, many people adore them. Those are the ones that you find all over.
But here in Connecticut, we have a special version of lobster rolls — hot lobster rolls. Sweet chunks of lobster is warmed, tossed with melted butter and stuffed into a toasted New England hot dog bun. And it's amazing.
Last week, Shawn, the kids and I headed to Mystic for the day and our first stop was Costello's Clam Shack. Of course, I ordered a Connecticut-style lobster roll.
The hot lobster roll at Costello's is a little different though. Instead of the hot dog bun, it's served on a toasted hamburger bun and piled so high that I worried that I wouldn't be able to eat it. Fortunately, I managed.
The roll was very buttery, and when I pushed down on the roll the lobster smoothed into a patty-ish shape that was way more mouth-friendly. It was sweet and fresh, like just cracked lobster. And the lobster was plentiful, which is important. It came with coleslaw, pickles and a bag of chips.
Though it's not your typical Connecticut-style lobster roll, the big chunks of lobster and buttery bun were really great — and totally hit the spot. I would definitely have it again (and again and again).
Shawn had the Fish and Chips, which is battered cod served with Costello's super crispy fries and coleslaw. He liked the fish a lot. And the fries? Wow. They are really good.
The kids decided against fish, instead going for a hamburger and a grilled chicken sandwich. Both were fine, but really if you go to a place like Costello's, you should stick to the specialty.
We ate on the second story balcony, which overlooks the harbor in Noank. It was a beautiful view.
Overall, I liked Costello's. Shawn and I both enjoyed our meals. And the kids seemed to as well. But the prices are on the high end for a clam shack. Also, there isn't a kids' menu, so you have to order off the adult menu for little ones. It's not a problem, but cost-wise it adds more to what you spend. Just something to think about …
Costello's Clam Shack
145 Pearl Street
Noank, CT